10 Best Digital SLR Cameras (DSLRs) for 2010
By Chandrajit, Gaea News Network
Wednesday, July 21, 2010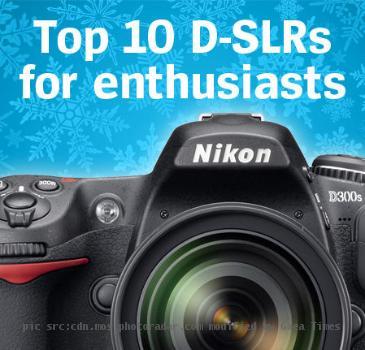 more images
KOLKATA, INDIA (Gaeatimes.com) — Being photogenic does not come only with steady hands. Your eye shows the way to a Photogenic picture but your Camera paves the road. With all the mind boggling technology coming into Photography, the cameras today have started to possess inevitable dominance over the picture you shoot.
Upcoming hottest trends are luring photographers with more and more technical jargons that most of them rarely understand. You must agree with the fact that buying a good Digital SLR Camera is not easy anymore. Amazing enough, featured Digital SLRs have even been seen, selling themselves at jaw dropping prices just aside another DSLR with less features but sky-high prices. You would not even wish to miss the hottest trend in this market.
Keeping all the above in mind, the sheer fact slowly moves away from the point. Ask yourself a few Questions: What is your Photogenic need? How often do you use your camera? What type of Photography do you specifically do? Of course, the type of Photography you do should be the force that helps you choose your new gear.
So, let's make your hard earned money get invested in a better DSLR. Our Top 10 DSLRs have been chosen based on expert reviews, features, popularity, quality and costs.
ARTICLE CONTINUED BELOW
10. Olympus E-30
Commonly nicknamed as the UDMA supporter, the Olympus E-30 puts itself in the top 10 lists as it has almost all the common features that a standard DSLR should have. A resolution of 13.1 MP is enough for a good photographer to bring out the essence in every snap.
Features:
Resolution: 13.1 MP
Battery Life: 750
Image Stabilizer: Yes
Memory: UDMA, Flash
F-Length: N/A
Pros: UDMA and Flash supported.
Cons: Noise is higher than usual.
9. Pentax K-7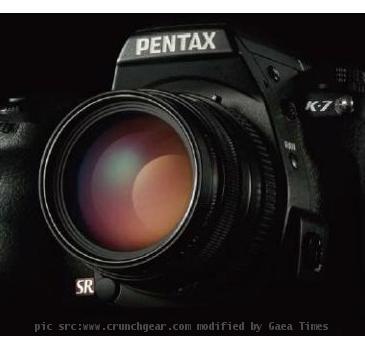 Just like a phrase is an ineveitable part of a sentence, a Pentax is an inevitable subject when we talk about Cameras. This time the Pentax K-7 has bagged the 9th position with an unique SDHC Memory support. A Pentax usually clicks faster, and so does this one. With a speed of 5.2 Frames/Sec, the K-7 beats the heat with the speed.
Features:
Resolution: 14.6 MP
Battery Life: 610 Shots
Image Stabilizer: Yes
Memory: SD/SDHC
F-Length: 27-82 mm
Pros: Fast FPS, SDHC Memory support
Cons: F-Length of 27-82 mm
8. Canon EOS 50D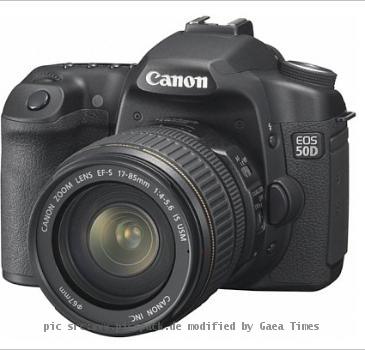 Just a few years ago, Canon started manufacturing DSLRs and today it is competing with the oldest and best camera manufacturers around the world. The EOS 50D is just another innovation by the great Canon. The EOS 50D has booked a seat within the top 10 because of its World class Image stabilizer. Canon provides some of the best image stabilizers in it's cameras and so has it with the EOS 50D.
Features:
Resolution: 14.6 MP
Battery Life: 620 Shots
Image Stabilizer: Yes
Memory: CF
F-Length: 18-55 mm
Pros: Great Image Stabilizer
Cons: N/A
7. Nikon D90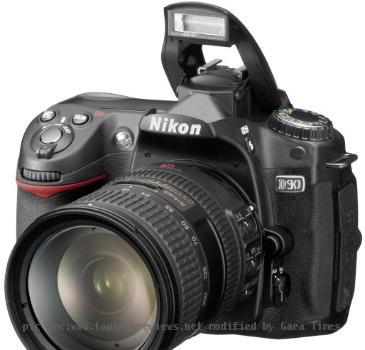 A Camera listing would always remain incomplete without a Nikon. Experience counts for excellence and Nikon has proved it time and again. With an amazing Battery longevity of 1000 shots, the Nikon D90 has always tasted the flavors of popularity. Most Wildlife Photographers prefer Nikon due to its Battery life and excellent shot compo that comes with 18-105 mm Focal Length.
Features:
Resolution: 12.3 MP
Battery Life: 1000 Shots
Image Stabilizer: Yes
Memory: SD
F-Length: 18-105 mm
Pros: 105 mm F-Length, Long Battery Life
Cons: N/A
6. Olympus E-3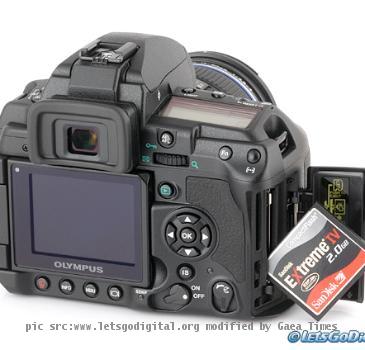 If you want to feel the grip of an SLR and the rhythm of a shot get yourself an Olympus E-3. This big looking Camera has a height of 4.6″ and is an excelsior in all types of Photography.
Features:
Resolution: 11.8 MP
Battery Life: 610 Shots
Image Stabilizer: Yes
Memory: CF, XD
F-Length: 14-54 mm
Pros: Supported CF and XD Formats
Cons: Not Portable, Weight
5. Nikon D5000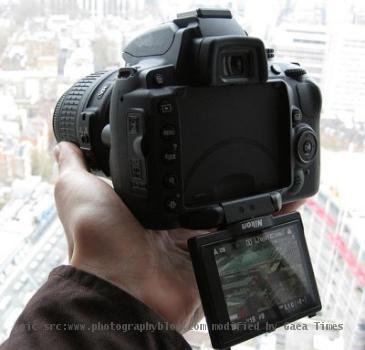 Yet again, the Nikon books another seat within the best 10 SLRs. With A-Class Features, this Nikon Model provides you with a varying Focal length.
Features:
Resolution: 12.3 MP
Battery Life: 510 Shots
Image Stabilizer: Yes
Memory: SD
F-Length: Variable
Pros: Variable Focal Length with Lens, Less Weight
Cons: Low Battery Life
4. Sony Alpha-A850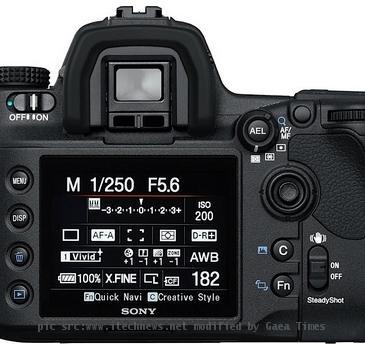 Although, DSLRs from Sony are not a favorite for the experts, but we have chosen this Sony Product due to a high-end resolution of 24.6 MP. With clear, crisp shots, this SLR from Sony can capture high contrast and color detail with ease. More unlike other Sony Cameras, its unique also because of its DRO+ feature which Sony has often boasted of.
Features:
Resolution: 24.6 MP
Battery Life: 880 Shots
Image Stabilizer:Yes
Memory: Memory Stick PRO
F-Length: 28-75 mm
Pros: DRO+, Clear and Crisp Shots, 3 FPS Shooting Speed
Cons: Costly memory upgrades with Memory Stick PRO
3. Canon EOS 7D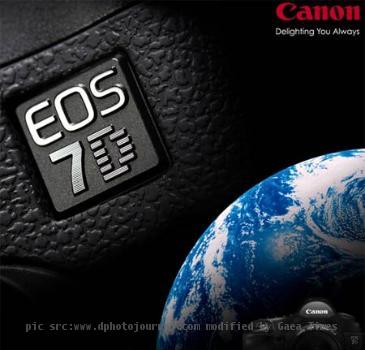 Yes, you made a right guess!!! The Dual DIGI 4 Image Processors and a 19-point autofocus system takes this Camera to the 3rd position. A high Video resolution of 1920 x 1080 HD video recording makes this camera stand out. But, sad enough, its quite heavy and holding it for a strenuous period of time is nearly impractical.
Features:
Resolution: 18 MP
Battery Life: 1000 Shots
Image Stabilizer: Yes
Memory: SD
F-Length: Varies with Lens
Pros: DIGI 4 Image Processor, 19-point Autofocus system
Cons: Very Heavy
2. Nikon D300S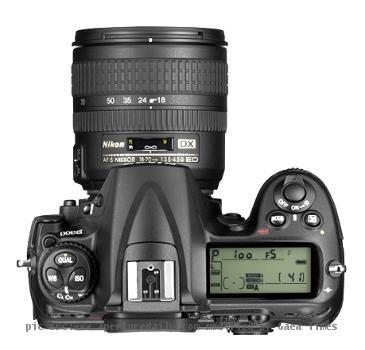 Rolling from the 10th position, we are very near to the end of our show, standing at the 2nd staircase. Making decisions are indeed tough at this position but unanimous Expert Reviews led us to put this Camera deserve its 2nd position. 2nd, only because shockingly enough, it has no Image Stabilizer, without which most DSLR manufacturers fear to release their camera in the market.
Features:
Resolution: 12.3 MP
Battery Life: 1000 Shots
Image Stabilizer: No
Memory: SD
F-Length: Varies with Lens
Pros: Overall Performance
Cons: No Image Stabilizer
1. Canon EOS 5D Mark II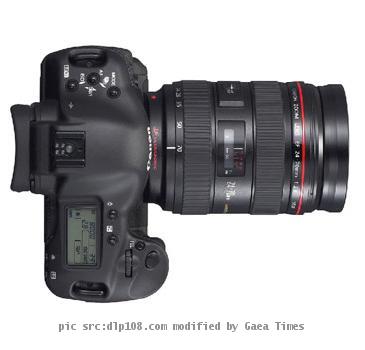 And, The award for the best Digital SLR Camera goes to Canon EOS 5D Mark II. With a high end resolution of 21.1 MP and 1080p, the EOS 5D deserves to be touted as the best amongst the rest. When you take a full grip on this DSLR, a bold and sturdy design gives you the feeling of an high-end DSLR. With a focal length of 18-55 mm, this SLR is one of the best Macro Shooters in the market. The only con that this DSLR bears is the width of its body. 6.0″ is wide enough to be deemed as a non-portable one. Otherwise, with Memory supports for CF and SD and a weight of 1.8 lbs the EOS is the best among the lot.
Features:
Resolution: 21.1 MP
Battery Life: 800 Shots
Image Stabilizer: Yes
Memory: CF, SD
F-Length: 18-55 mm
Pros: Desired improvements for all Shooters
Cons: Heavy
With some Photographer unfriendly gigs entering into the market, the focus is gradually shifting from Photography to Photographic Gear. But, useful technologies are always welcome. Only, thing we need to do is shoot out the worthless DSLRs that have been flooding the market and let the Focal Hunters around the globe spend a gala shooting time.