3 Best Hybrid cars for 2010
By Soumitra Mondal, Gaea News Network
Monday, November 15, 2010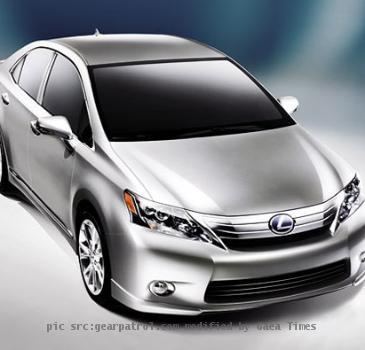 more images
The demand for hybrid cars is increasing day by day as more and more people are becoming environment friendly and considering the fuel efficient cars to be the need of the future. Some are also shifting towards the hybrid cars to save some bucks in these days of rising gas prices.
ARTICLE CONTINUED BELOW
Hybrid cars generally combine two different sources of energy for use. Usually one of the sources used is an unconventional source of energy. Many automobile industries have expressed the inkling that hybrid cars are supposed to dominate the future automobile market.
Here are the 3 top cars are listed which are very much in-demand now a days.
Lexus HS 250h Hybrid
The car is fuel efficient car with exhaust-heat recovery system to put up with engine warm-up and help enhance fuel efficiency. 30 percent of the interior is made up of plant based plastic. The car has got AT-PZEV emissions ratings. It is equipped with 2.4 liter Atkinson cycle engine. It operates on lower cost 87-octane gasoline. Apart from these it has a stylish body and a small size fit for jammed roads.
2010 Ford Fusion Hybrid test drive
The next comes in line is 2010 Ford Fusion Hybrid. The first thing which strikes is the look of the car which is stylish and new. The car will seat 5 passengers. It has got a 2.5 liter Duartec engine which is a 16 valve Atkinson cycle I-4 type. The recommended fuel is economical 87 Octane.
Toyota Prius
The third car is Toyota Prius. The biggest improvement is 20% smaller inverter, motor and transaxle package resulting in a lighter weighing car with aero dynamical shape for lower coefficient of drag. There are three driving modes : EV-Drive, power mode and ECO mode.