3 Must Buy Accessories for your Laptop
By Soumitra Mondal, Gaea News Network
Tuesday, October 19, 2010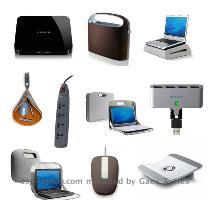 more images
A laptop has become an indispensable part of our daily lives thereby creating a different market segment for the laptop accessories as well. Recently markets are flooded with Designer laptop bag, laptop screen guard, cooling pad, USB light, laptop skins, etc. which may not be useful at all. Here is a list of accessories which you must try out.
ARTICLE CONTINUED BELOW
Wireless Mouse
Did you ever see anyone satisfied with a laptop touchpad? Well, I did not see any and perhaps you did not have as well. A mouse is a must for those who work long hours with their laptop and there is nothing better than a wireless mouse. They have become extremely cheap and reliable with a high processing speed.
Headphones
The sound from a laptop is far from being a pleasant experience. A good pair of headphones is always recommended for the audiophiles to get the best out of their laptop. Using an appropriate headset can provide relief from distracting and unwanted noise while you are working or traveling.
External DVD Burner
In standard notebooks DVD writers come as built in device but there are no such drives in the netbooks. This is why buying an External DVD Burner is a must for the netbook buyers if they want to backup some data on to the optical storage medium. When you are not using a DVD or CD, you don't have to carry the weight of the DVD writer in your laptop. You can save your original DVDs and CDs, create music or make your own video.