5 Best Green Cell Phones and Mobile Phones Available Today
By soumitra, Gaea News Network
Monday, January 25, 2010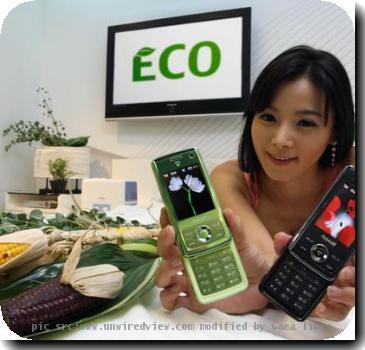 more images
As we are getting more and more dependent on the gadgets, it is not worth a mention that leaving the technical advancements behind to restore the greeneries of our mother earth will be a very daunting task. Implementing Green Technology is perhaps the most important and effective route to solve this dilemma. We can not put aside the mobile devices that we use everyday, but at least we can see that it does not contain the harmful toxic wastes or does not contribute more towards the carbon footprints set by us. Here is our pick for the best Green Cellphones and mobile phones that are available now.

ARTICLE CONTINUED BELOW
1. Samsung Blue Earth
If you are a gadget lover and an environmentalist at the same time, you must grab one these phones. The Samsung Blue Earth is one of the best Solar Powered mobile phones available in the market today. The built-in solar panel on its back can charge the mobile when you take it out on a sunny day thereby saving some valuable fossil fuels which would otherwise be needed to charge the cellphone. In case of cloudy days or if you don't want to get out of your room, it has a super efficient charger and won't waste energy like other chargers available in the market. The phone is now available in UK at a reasonable price.
2. Sony Ericsson C901 GreenHeart
Sony Ericsson is determined to make their products with less carbon footprints; at least with 15% fewer Carbon-di-Oxide Emission by 2015. Through various eco-friendly procedures and with 50 percent recycled plastic used in their casings, they have achieved a significant position to reduce the carbon footprints. With this, C901 GreenHeart, they won't give you any paper manual, instead you have to remain satisfied with the electronic format. The paints used are also water based and unlike those solvent based based paints, they don't contain any harmful chemicals. The headset is created with 100% recycled plastic. To tell you about the non-environmental features of the phone, I must mention that this phone has a 5MP camera to capture the beautiful pictures of nature. There are other standard features such as GPS, Bluetooth, 2.2 inches display and other advanced features as well.
3. LG Pop GD510
LG is the latest entrant in the Solar Panel Mobile Phone Technology. The LG POP GD 510 is a simple and slim phone with a solar panel at its back that can charge it enough for a 2.25 minute talktime after a 10 minutes charge in the sun. The device is totally PVC Free and made without BFR. It has an intelligent feature that will tell you when the phone is fully charged so that you can remove the charger from the plug to save some additional energy.
4. Motorola W233 Renew
Motorola is one of the pioneers of the mobile phone technology and when it comes to the green mobile phone technology, Motorola is not standing and staring at others. The Motorola W233 Renew is a totally carbon neutral device as they say. The casing of the phone is made entirely of the plastic water bottles. Producing the phone also requires at least 20% less energy than some other models. I comes with smaller packaging which is also made from recycled papers.
5. ZTE Coral 200 Solar
This is a basic phone that doesn't have the bells and whistles like the other phones listed here but this mobile phone deserves a place on its own. This phone is designed for the remote areas of this world where standard electricity facilities has not yet reached. The phone is totally solar i.e. the only way to charge the phone's battery is the solar panel on the back of the phone. Like the other phones, it also has some other green features as well.
Conclusion
Whether you want a basic cellphone or a high end smartphone, there is a green cellphone for you in this list. Let us join hands and use these mobile phones so that we can at least be honest to ourselves, if we care about the environment at all. You can also take a look at our article on green mobile phone revolution.
Filed under:
Company
,
Environment-friendly
,
Featured Article
,
Gadget
,
LG
,
Motorola
,
Samsung
,
Sony Ericsson
Tags:
Eco friendly
,
Eco-Friendly Gadget
,
Global Environmental Issues
,
Green gadgets
,
Green Mobiles
,
Green Mobiles for Green Earth
,
Green Technology
,
mobile
,
Mobile Phone
,
Top Green Gadget