7 Most Annoying Facts About Tablet PCs
By Avik, Gaea News Network
Tuesday, December 7, 2010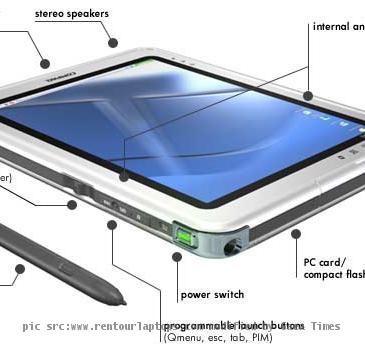 more images
Undoubtedly, among all the gadgets released this year the Tablets are those that got an extra edge. Infact with the consumers eyeing on more mobility with their PCs the Tab market is blooming real fast. Already, two worth naming contenders in the market happen to be Apple iPad and Samsung Galaxy Tab. In the line are Acer, RIM and Cisco with its Cius, among others. Well, they will take atleast the next year to flood the market.
ARTICLE CONTINUED BELOW
Come, lets take a tour of some facts that make these Tablets horrible to bear.
1. Lack of Competition leading to monopoly
So far, iPad and Galaxy Tab are the only major products in the Tablet section. In the rush to be familiar other products that are being launched are mostly replications of these. And what started as an unique concept is getting on to be yet another boring market simillar to that of the traditional PC. iPad enjoys it's exclusivity being the first of its kind and thus runs its own monopoly in the market. Sad enough but the truth remains that with the lack of enough options in the market consumers are left out with only a few choices.
2. Price — Big Deal
For an iPad with storage capacity of 16Gb bundled with 3G one needs to shed $699. For a similar package featuring Galaxy Tab one is charged $400. Now, the most interesting thing is you will get mostly all of this in a netbook at just $199. So, why should you go for one of these if you aren't a collector or a gadget freak.
3. Touch-Screen Quality
Leave the big names aside, what about the others? They don't come with quality assurance do they? Well, if you are going in for a touch screen device touch sensitivity and response time is what counts more than anything else. Reportedly, the Dell Streak and JooJoo Tablet fails to deliver any of these.
4. Where is the Enterprise Software Support?
For a large-scale deployment of these Tablet PCs it needs to be industrialized. But, a company providing its executives with one of these will definitely eye on the support so that they can work on fine in it. But again, apart from selective apps available with the Apple app store there aren't any news on this except for vague promises for the future.
5. Typing is a Tough Job
Now, if you've had an experience you will definitely know what I am talking about. Typing those long mails or perhaps writing hundreds of lines of code in a Tablet isn't that comfortable. If you are to make things sweeter you have to invest more for your own good and get yourself a physical keyboard. Apple provides the option for this integration, don't know about the others.
6. Android not meant for Tablets?
Google pointed out earlier that their Android 2.2 isn't ideal for Tablet PCs as yet. This makes the market shrink and people are left out with but one single choice of switching to Apple's iPad.
7. iPad Printing Prejudice
Well, if you conduct a poll "Can you print using an iPad?" I bet majority count will offer a big no no. That is because until the latest updates it sure had some major printing issues. What's more still it offers support to only a selective range of printers. Now, considering all this dow you still think Tablets are great? My opinion would be, "Hell, No!".