Acer Iconia to be available from January 28 at 1,499
By Soumitra Mondal, Gaea News Network
Friday, December 10, 2010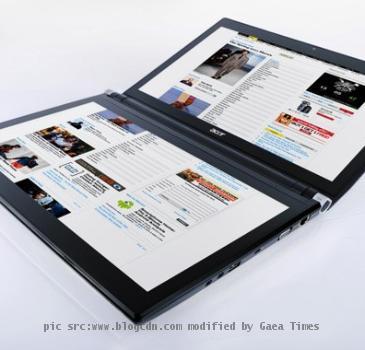 more images
Acer Iconia was shown at a big global press event held a few days back and now the device is announced to go on sale from January 28 in Spain. It is priced at 1,499 which would translate to about US $2000 though the actual US pricing may be something different than what is derived from just currency conversion.
The pricing of the device has raised many eyebrows but I don't think it is too high a price tag. After all, dual touchscreen display is not the cheapest thing to manufacturer and apart from that, it boasts a beefy Core i5 CPU, up to 4 GB of RAM, up to 750 GB of storage, an optional 3G module and a latest USB 3.0 port in it.
Many have already started to compare Iconia with iPad but I think it would be just lame to compare this device with an iPad. iPad is just a plain tablet with underpowered processing capabilities and this device has some real beefy specs under its hood. A friend of mine was arguing with me that if you can get an iPad for, say $700, why would anyone bother to buy this device spending $2000, if he is not a gadget collector or hobbyist? And then I argued the same with him that why people are buying iPad spending $700 whereas they can do the same job by spending only $300 on a netbook. My friend remained silent. What do you think? Share your viewpoints below.
ARTICLE CONTINUED BELOW