Advent Eclipse E300: A Little Champion
By Arnab Ghosh, Gaea News Network
Sunday, November 28, 2010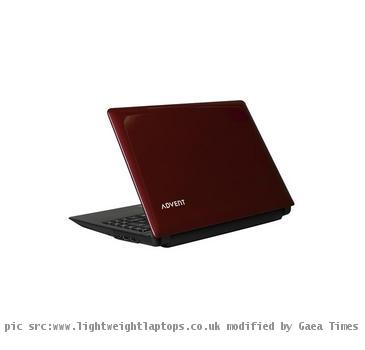 more images
LONDON, UNITED KINGDOM (GaeaTimes.com)- There are plenty of laptops in the market these days but finding a laptop that is truly portable yet does not falter or become sluggish on performance front can be quite difficult. The netbooks are yet to come at par with regular laptops in this respect. However, a person who wants a stylish and truly portable laptop that does not burn a hole in the pocket can consider the Advent Eclipse E300 ultra-mobile laptop. It may not have high end tech specification but carries enough punch for the average users. It is quite lightweight and looks quite stylish with its glossy red exterior. The laptop is powered by a dual core Intel Celeron processor SU2300 1.2 GHz. It is not ideal for games but will handle office applications, web browsing and media playback with ease. The SU series CPU is ideal for power saving and thus it runs longer when on battery.
ARTICLE CONTINUED BELOW
The CPU in the Advent Eclipse E300 is aided by 250 GB Hard disk and 2GB of RAM. The laptop comes with original Microsoft's Windows 7 Home Premium pre-installed. The 13.3 inch wide screen display makes occasional movie watching a joy. A 4 in 1 media card reader is also bundled in. However, the caveat in this laptop is that there is no optical drive. You have to use external DVD writers instead. The inclusion of web cam and advanced fast 802.11b/g/n WiFi technology is a boon for the users who move a lot.
The Advent Eclipse E300 is ideal for those users who prefer performance and features over brand name. Its price starts from 329.99.