Apple acquires Bluetooth iOS headphone maker Wi-Gear
By Soumitra Mondal, Gaea News Network
Wednesday, November 10, 2010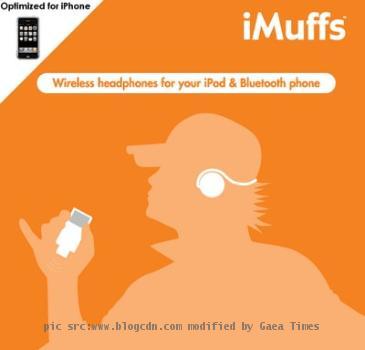 more images
Apple has reportedly acquired Wi-Gear, a small Bluetooth wireless headphone designer in San Francisco approximately two months ago for an undisclosed amount. This company made Bluetooth 2.0 adapter for older iPhones and iPods that don't support Bluetooth 2.0 and also made three generations of A2DP stereo headphones called iMuffs. The products of Wi-Gear were specifically designed to be used with Apple iOS devices. Now this company is closed and isn't offering up any details, although the about page on Wi-Gear's website now shows the following message,
ARTICLE CONTINUED BELOW
Wi-Gear has ceased operations and is no longer in business. We will be unable to respond to any inquiries.
The reports say that Apple picked up Wi-Gear to design an as-yet-unannounced stereo headphone product for iOS devices and MacBooks. It is also expected that Apple picked Wi-Gear to provide Stereo Bluetooth headsets to its customers when its own regular Bluetooth headset proved to be unsuccessful. One of the co-founders of Wi-Gear, Michael Kim, who was also the lead electrical engineer, now lists his current position on LinkedIn as an iOS Bluetooth Engineer at Apple.
Apple's Bluetooth headset has already been discontinued, as we can see them no longer at the Apple online store. Wi-Gear isn't answering any questions and Apple is maintaining its usual tight-lipped stance, so there isn't any official confirmation about the buyout. However, it seems likely the anonymous sources for this rumor are correct. We are already eager to get our hands on Apple branded stereo Bluetooth headsets.