Apple iPad Vs HP Slate
By Jayita, Gaea News Network
Friday, January 29, 2010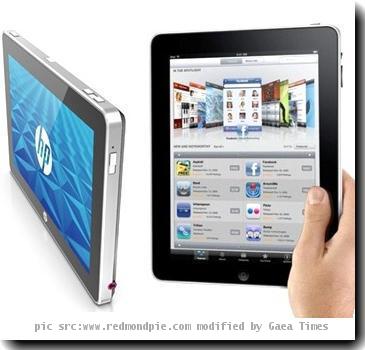 more images
LOS ANGELES (GaeaTimes.com) — Earlier this month, Microsoft's Steve Ballmer had announced an upcoming "slate" PC from HP In Las Vegas, CES 2010. Yesterday Steve Jobs has announced the most anticipated and hyped product of Apple — the iPad in his keynote address at the Yerba Buena Center for the Arts in San Francisco. People are searching Internet to find out which of these tablet PCs has better efficiency, features and apps. Here I am giving you a comparative study between the two to find the answer.
ARTICLE CONTINUED BELOW
Size and Weight
Apple iPad is 0.5-inch thin and weighs 1.5 pounds. It appears slightly lighter than HP Slate, weighing something around 2.64 pounds.
Display
iPad has a more colorful display compared to HP Slate. iPad is a 9.7-inch multi-touch capacitive display with 1024 x 768 pixel resolution. For a display HP comes with a 10-inch LED screen with 1024×600 or 1366×768 resolution. It also includes multi-touch display.
Operating System
iPad has same operating system as iPhone. iPad OS is derived from Mac OS X. iPhone OS has four abstraction layers: the Core OS layer, the Core Services layer, the Media layer, and the Cocoa Touch layer. The operating system uses less than 500 megabytes of the device's memory. Comparatively, HP Slate has better OS on its side; the Windows 7 with multitouch capability.
Processor
1Ghz Apple A4 CPU is optimal for the iBook apps that iPad supports. It also ensures the battery life not goes less than 10 hours. For HP Slate, it has Intel Core 2 processor.
Storage Capacity
iPad will be available in three packages i.e. 16GB, 32GB and 64GB. Storage capacity of HP Slate is yet to be known.
Multitasking
While iPad lacks multitasking capabilities, HP Slate supports multitasks. That means using HP Slate you can listen to the music while downloading an important file. It gives you more freedom of work than iPad.
Flash Content Support
Though you can watch YouTube video on Apple iPad, it does not support Adobe flash. You can play Flash with HP Slate.
Battery Life
Apple iPad claims to have 10 hours battery life but there was no information on the battery of HP Slate.
Webcam
iPad doesn't have webcam, so video chat is not possible with Apple's revolutionary product, while HP provides interface for Webcam.
Connector
HP Slate comes with USB Port. On the other hand, iPad has no expandable storage or USB port. According to some reviews, until you hack it to run Chrome OS, you're going to be using this thing exactly the way Apple tells you to.
Application Availability
While iPad restricted its apps within iTune app store, HP Slate serves with more generosity providing you with millions of apps. You can download any s/w for your Windows7 OS with your HP Slate.
Books
Here also HP Slate is one step forward than iPad. HP Slate has broaden the scope of reading eBook via Amazon Kindle app or in any format, supported by Windows 7. Whereas with iPad, user can only read iBooks via Kindle app for iPhone.
Keyboard
For both case a virtual keyboard is available. This keyboard is not at all suitable for users associated with professions that need long hours of typing. In addition, iPad includes an optional keyboard dock, which can be used like a regular laptop or desktop PC.
Price
Apple has marked it product with only $499 which is much less than $800 (as expected) - the price of HP Slate.
While Apple iPad gives you a glamorous display, an impressive battery back up with its cheaper price; HP Slate provides facilities like multtasking, Webcam support, USB Port and numerous apps. Write us which one you find most suitable fulfilling your demands.