Apple iPhone 4 Glass Back Issue
By Avik, Gaea News Network
Thursday, October 7, 2010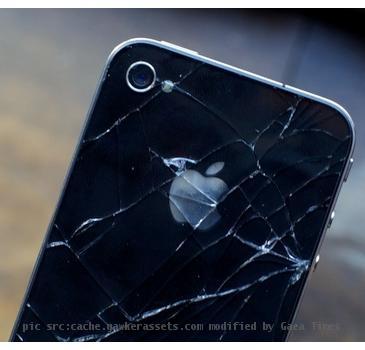 more images
Apple has always been in news, but this days it isn't for good.
ARTICLE CONTINUED BELOW
Post the iPhone Antennagate and iPad printer support crisis, the company faces yet another controversy in regard to its iPhone 4 design. Steve Jobs has always been witty enough to escape down the lane. He always tracks down the problem and some how re-directs it otherwise giving it a totally new dimension.
Well, cutting down the details and coming right to the point the engineering team at Apple have somewhat got hold of a new fallacy that is being inherited by the iPhone breed. The Glass Back of the phone is prone to get cracked and how ? — The cases (not the bumper ones) to be precise the sliding cases can lead to the epidemic. Once you repeatedly pull in and pull out the case then it is expected that the dust particles rendering between the case surface and the glass back is quite prone to scratch the glass, on extreme cases the glass can crack. This is a pretty dangerous situation to have broken glass particles in your pocket isn't it?
So, the step that the officials have taken is to immediately put a ban on all such products lined up in their store. Meanwhile, the people in the biz are running low due to Apple's decision of defame these third party sliding cases. Infact the matter of real concern is whether Apple knew about the whole thing earlier because their design of the bumper case prominently holds to the fact that they have tried to keep the glass surface away from any collision.