Apple Sues Motorola Over Multi-touch Patent
By Avik, Gaea News Network
Monday, November 1, 2010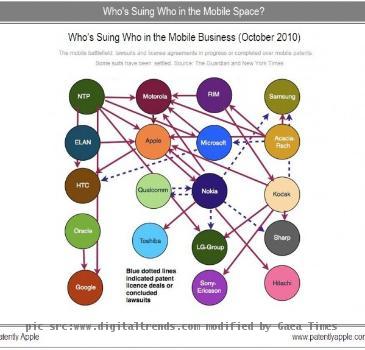 Interestingly, Apple has recently filed a counter-suit against Motorola, accusing it of violating some patents related to the multitouch smartphone displays, among a number of other things.
ARTICLE CONTINUED BELOW
Well to be truthful the technology patent lawsuits kinda feels more irrelevant all the time. What actually happens to be the underlying fact is that, in an attempt to retain market dominance, Apple has filed a counter-lawsuit against Motorola and have made claims that several of its mobile devices violate Apple patents, giving emphasis on the fact that it relates to smartphones using multitouch touchscreen displays. Listed are the phones — Motorola Droid, Droid 2, Droid X, Cliq, Cliq XT, BakFlip, Devour A555, Devour i1, and Charm. Shockingly, Apple has seeked for a ban on the sale of these products and demanded all the associated revenue Motorola has made from them.
It all started off at a 2009 financial conference, when Tim Cook, COO of Apple, set forth with the warning,
We like competition as long as they don't rip off our IP. And if they do, we will go after anyone who does.
Apple has claimed that Motorola allegedly copied the iPhone, which violates six patents, most of them relating to multitouch. Motorola shooted a preemptive grenade in October, accusing Apple of violating none less than 18 of its own patents. Those complaints were mostly centered on technology relating to GPRS and Wi-Fi, including the WCDMA (3G) wireless communication and wireless antenna design.
Motorola Mobility corporate VP Kirk Dailey, stated,
Motorola has innovated and patented throughout every cycle of the telecommunications industry evolution, from Motorola's invention of the cell phone to its development of premier smartphone products, After Apple's late entry into the telecommunications market, we engaged in lengthy negotiations, but Apple has refused to take a license. We had no choice but to file these complaints to halt Apple's continued infringement.