Apple's iOS 4.2 Improvises iPhone Performance
By Avik, Gaea News Network
Monday, November 8, 2010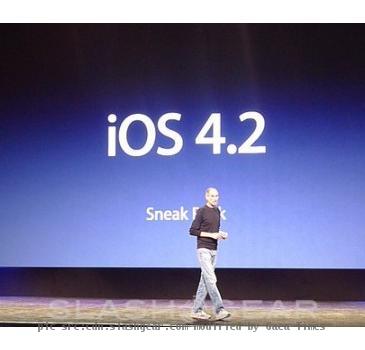 more images
Apple's iOS 4.2 software update is all set to be launched this month. Reportedly, in the offerings are improved performance that has been tested on Apple's 2nd gen iPhone 3G, which was unveiled in 2008.
ARTICLE CONTINUED BELOW
With the golden master of iOS 4.2 installed on an iPhone 3G the performance of the OS has well been tested. Well, as it happens that the software is believed to be the final version of the iOS software update, and it has been scheduled to be popped out for the iPhone, iPod touch and iPad this month.
As a matter of fact the update will focus on some innovative features like AirPlay and AirPrint. Now, what's interesting is that this will facilitate the users to stream into television through the Apple device by the Apple TV with the aid of AirPlay and the AirPrint will assist them in regard to wireless printing process.
Rumors are that the release date is on and from 12th November. This assumption has been made as Apple will be up with the launch of network updates on that day. This latest update is said to have addressed more or less the major issues that surfaced regarding usability of the iPhone and it is fast. So, let us wait and watch until something pops up.