Asus Eee PC 1005 PE Review
By soumitra, Gaea News Network
Monday, December 28, 2009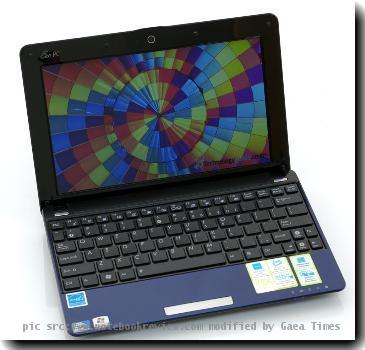 more images
Asus is well known for its exclusive Eee PCs and this new Eee PC 1005 PE is the latest addition to its netbook lineup. It has the latest Intel Atom N450 Processor and is built on its earlier successful notebook 1005 HA Seashell that we reviewed earlier. The new processor makes the device run up to 14 hours as least on the spec sheet of the netbook. Let's check some other details of the device and decide if it is worth a buy or not.
ARTICLE CONTINUED BELOW
Design and Build
There is nothing new in the design itself and looks very much like the 1005 HA Seashell. The overall design is a little thicker with its removable battery but doesn't look clumsy by any means. The overall build quality is very good for a budget notebook like this and has a pretty solid feel to it.
Performance
The new Intel Atom N450 is not a powerful beast but almost with same processing capability as the more common N270 or N280 processors. But the difference lies as it uses the Intel GMA 3150 graphics while the older Atom 280 processors were stuck with the Intel GMA 950 graphics. The system becomes a bit more capable to handle things like HD Video or an occasional session or image processing etc. Do not try to play any high def 3 D games in this device or you are destined for a disappointment. The 1GB SDRAM is good enough for normal everyday tasks and the 250 GB HDD is also enough to store all your favorite music and videos and every other thing.
Display
The display is a standard 1024 X 600 pixels display measuring 10.1 inches diagonally. The screen is a glossy one which has a very good brightness and contrasts showing live colors but, as usual, it suffers from glares and reflections in bright light conditions. When it comes to viewing angles of the display, I would say that the vertical viewing angles are quite average and the horizontals ones are just a bit better. However, you do not need to be worried about it, as you are not supposed to watch an HD movie in this netbook with a couple of your friends.
Audio
We were impressed with the sound quality nevertheless especially keeping in mind the average quality of the budget netbook speakers. The speakers sounded very good even at high volume level without any distortion. The high to midrange sound were very good and it is quite obvious not to hear any bass range without a dedicated subwoofer which the 1005 PE did not have. A good pair of headphones are recommended for the audiophiles as is always.
Keyboard
The keyboard is very good and have good springy feedback and response. There is a good click sound response with the keys pressing in and the chicklet style keyboards are good to see functioning very well. We had no problem typing at high speeds in this keyboard though we expected the keys to be a bit bigger.
TouchPad
The touchpad also has very good response with its synaptics technology. The surface of the touchpad is rough and feels very good while moving our finger across the touchpad. It also supports multi finger gestures and you can customize these gestures as well. However, the buttons are not that well. They have very shallow feedback and it is very uncomfortable to click them conveniently.
Ports
It has VGA Out, USB Port, Security lock slot and power jack in the left side and a 4 - in - 1 card reader, headphone and microphone jack and another two USB Port and a necessary Ethernet slot in its right side. It does not miss out on any important slot but it does not also have any advanced ports like firewire or HDMI port. However, the port selection should be more than enough for normal usage.
Battery
The new processor has the biggest advantage of better battery life. In our tests, we managed to get a huge 12 hour runtime with little to no usage breaking all of our previous records. With heavy workload you can expect to run 1005 PE at least 8 hours which is not a joke by any means.
Pros
Astounding Battery Life
Good Build quality for a budget netbook
Cons
Unsatisfactory Touchpad buttons
Conclusion
If you want a power beast, this is not the laptop for you but if you want a power saver, there is no better laptop than this. With its stellar battery life and good overall features and build quality this is definitely a good laptop for those who will be using it for normal everyday usage away from the power sources for quite sometime.