Best 3 HDTV to buy in 2010
By Soumitra Mondal, Gaea News Network
Saturday, October 23, 2010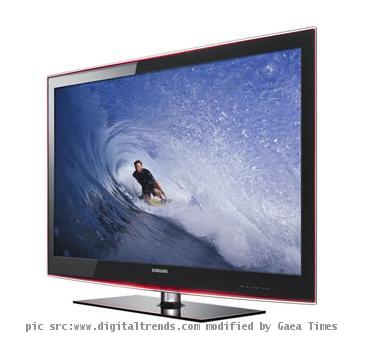 more images
It is needless to say that people are going for new generation HDTVs for their outstanding picture quality. But before you buy any HDTV there is something to look for in any of those high definition televisions. First of all you have to decide the size of the display appropriate for your living room. The HDTVs are available in different sizes ranging from 32 inches to 60 inches though larger sizes are also available. Here are 3 HDTVs recommended by us.
ARTICLE CONTINUED BELOW
Samsung UNB5000 series
This HDTV is at the top of our list because of its deeper black level than any HDTV and Pioneer Kuro with solid shadow detail. Excellent video processing with modifiable dejudder and high saturated color makes this Samsung product unique. The new UNB5000 series comes with numerous picture control and built in Yahoo widgets. Although it cost a mint, but Samsung's LED-based UNB8500 series is worth buying for its energy efficiency and best picture quality.
Panasonic TC-PG20/25 series
Its superb black level performance makes this Panasonic product stand in 2nd position. The effective antireflective screen will give it great color saturation and uniform brightness as well as color across the screen.
LG LE8500 series
The overall quality of LG LE800 series has put this into third best among the list. The shadow quality is superb and also produces the deepest shade of black compared to any other TV. Sleek styling with 1.4″ deep panel adds extra spice into its looks. So with plenty of streaming and interactive features; extensive picture controls and also for energy efficiency, the new LG LE8500 series is worth buying.