Best 3 LCD TV to Buy in 2010
By Soumitra Mondal, Gaea News Network
Saturday, October 9, 2010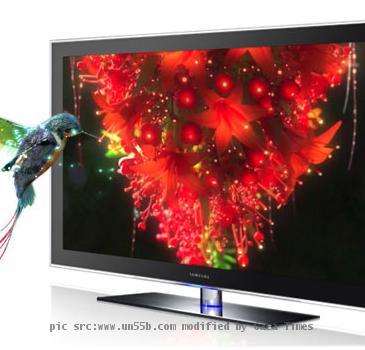 more images
In the last few years LCD TV prices have fallen off very rapidly and also made great technological advancements at the same time. And now if you go to the market to buy an LCD TV you're sure to find yourself puzzled amidst a plethora of models from different manufacturers. Here are 3 LCD TVs which we think have the best value for the money spent.
ARTICLE CONTINUED BELOW
Samsung UN55B80000
Samsung has already positioned itself as one of the premier LCD TV makers and UN55B80000 is one of their hottest selling models. Its 55 inch screen is perfect for watching movies at home. The screen is surrounded by a glossy black bezel. The slim screen is supported by a crystal-clear neck which fits nicely with any room's dcor. The Samsung UN55B8000 features networking capabilities for you to download additional content from various providers. Its list price is $2479.
LG 55LH90
The LG 55LH90 features an all black exterior. The edges of the screen are straight on all sides except the bottom which has a slight curve to it. The glossy black chassis is so glossy that it is almost like a mirror. The scenes with both bright and dark areas, the TV can reduce brightness in only the darker areas. Its list price is $1549.
Toshiba 55SV670U
It features a solid black bezel that wraps around the screen. There is a hint of silver near the bottom of the screen, just below the Toshiba logo. It has a 55 inch screen, refresh rate is 240Hz. The faster refreshing rate allows the TV to maintain focus on objects that move across the screen quickly. It has 4 inputs to connect all your digital devices. Its list price is $1869.