Best 3 netbooks under $400
By Soumitra Mondal, Gaea News Network
Wednesday, October 6, 2010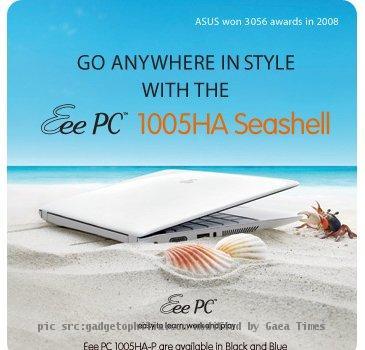 more images
In the past few years netbooks have created a market of their own. These low price and limited power laptops have become very useful for business on the road. If your primary need is taking notes in the class or surfing the net in coffee shop, a netbook is ideal for you. Most of the netbooks are available under $400 so that you won't have to break your bank to buy one. Here are three netbooks which provide the best value for the money spent.
ARTICLE CONTINUED BELOW
ASUS Eee PC 1005HA
Asus may be considered as one of the pioneers of the current netbook generation and their Eee PC range has become an obvious choice for the buyers over the years. This netbook, Eee PC 1005HA is one of the finest example of a netbook. It has the standard Intel Atom 1.66GHz processor and 1 GB RAM (upgradable to 2GB), 160GB of memory. Its features a 10.1 inch screen and 10.5 hour long battery life. Its price is listed at $399.
The HP Mini 110-1030 NR
HP Mini Series also has very good netbooks in its lineup. The HP Mini 110-1030 NR is my personal choice. This 10 inch netbook (6.8 10.3 1.3 inches) is very compact weighing only 2.9 pounds. Its display resolution is a bit nonstandard at 1024 576 pixels. Its battery life is about 5 hour. It is priced around $310.
Acer Aspire One AO751h
Acer is another notable manufacturer when it comes to netbooks. Unlike most netbooks, the Acer AO751h runs the 1.33 GHz Intel Atom Z520 processor. It is designed to conserve power delivering a respectable 8 hour battery life. It has 11.6 inch screen, standard 2GB RAM and 250GB hard drive. This stylish looking laptop is priced at $390.