Best Bluetooth Mobile Hack Software Free Download
By soumitra, Gaea News Network
Friday, November 20, 2009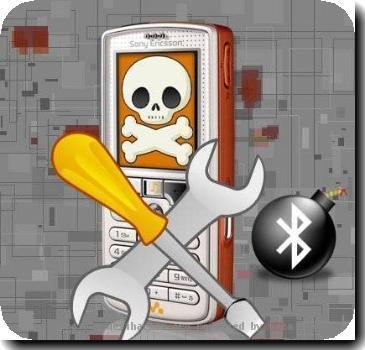 more images
Hacking is a word that seems to invite us to a forbidden world. Earlier we shared with you the secret trick to hack your friend's mobile and make calls from his/her number without spending a dime but that app had its limitations which I had mentioned in it. But if you are searching for the Best Mobile Hacking Software, you have arrived just at the right place. Here I will show you the best Bluetooth Mobile Hacking Application till date.

Here is a list of what you can do when you have hacked the other phone. Have Fun!
ARTICLE CONTINUED BELOW
Read Messages. (They are no more personal!)
Read Contacts. (Check your lover's phonebook to see what name he/she has saved your name. Hey, please don't suicide when you see he/she has saved your number as lover no. 9! HeHe)
Change Profile (Change the other's profile to silent mode when you are on a date!)
Play Ringtone even if the phone is silent (Annoy your classmates!)
Play songs from the hacked phone in the same phone.
Restart the phone (Show some magic to your friends!)
Switch off the phone (Ultimate thing that you can do!)
Restore Factory Settings (Do this to the most organized one and run away quickly!)
Change Ringing Volume (You have enough experience how to use it. Don't you?)

Follow these steps to hack any Bluetooth enabled mobile phone.
Download Super Bluetooth Hack 1.8 and also check that your mobile is in the list of supported handsets from the link provided. After you have downloaded the .jar file, install it in your mobile.
There is no need to install the software in the mobile which you want to hack.
Turn on the Bluetooth of your handset and open the Super Bluetooth Hack Application.
Select the connect option and then Inquiry Devices to search for any of mobile that has its Bluetooth turned on nearby.
Your friend's Bluetooth must also be turned on to be found. Pairing between the devices is also necessary sometimes.
Once your friend's phone has been found, try out its functions!
Here is what you require in your mobile for proper working of all these functions. Don't bother if you don't know if your mobile has it or not. Just try it out and it will probably work if you have purchased a decent modern handset.
Minimal Requirements
Java MIDP 2.0
CLDC 1.0
JSR 82 Bluetooth
Requirements for proper working of all the functions
JSR-75 FileConnection
Port - IR0
Languages in 1.08(Supplier)
Slovenčina
Čeština - R@PTOR
English
German - MR.5UP3R801L3R
Russian - Zhurik
Greek - Darky
Foot Note : At the end of the day, it is only a great software to show off to your friends. It does need the other phone to have its Bluetooth turned on and there are some other issues which disqualifies itself to be called a true hacking software. But nonetheless this is the Best Bluetooth Hacking Software available which is perfectly legal. But I won't crowd your mind with its limitations. Try it out and have a good time with your friends!