BlackBerry PlayBook: New iPad Challenger?
By Arnab Ghosh, Gaea News Network
Saturday, November 20, 2010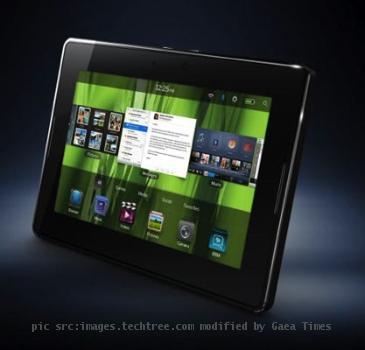 more images
SAN FRANCISCO (GaeaTimes.com)- The challengers of the mighty Apple iPad are slowly appearing on the horizon and the latest entrant is the PlayBook made by RIM- the company known for the mighty BlackBerry series of smart phones. The tablet Internet device which is RIM's answer to Apple's iPad may challenge the dominance of iPad in global market. It will go on sale early next year, as it has been reported. The price of the upcoming device is the same as iPad's price. While the RIM tablet does have a smaller screen compared to the Apple iPad. it sports the same 1024×600 resolution.
ARTICLE CONTINUED BELOW
It is too early to say whether it will prove to be the iPad killer or not. No matter how many flaws are found in Apple devices, there are thousands of Apple fanatics who would not settle for any other brand. It has been seen in the case of iPhone and iPad as well. BlackBerry smart phones are selling very well globally but the niche market of iPhone has not been affected much by that. Besides, the much touted HP slate has been selling in modest numbers since its debut. India's answer to iPad, aka OlivePad has proved to be a damp squib as well. It is true that RIM does not make duds but the success of the BlackBerry PlayBook will depend on a number of factors.
BlackBerry PlayBook has better spec compared to iPad. It has a dual core CPU that runs at a speed of 1 GHz. It also has twin cameras with one of them supporting FullHD quality recording. However, its drawback is that it does not have in built 3G.