BlackBerry PlayBook to Sell for Under $500
By Soumitra Mondal, Gaea News Network
Wednesday, November 10, 2010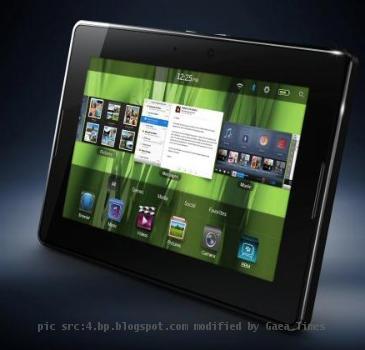 more images
Here's some great news for the BlackBerry Playbook freaks! - As RIM Co-CEO Jim Balsillie has revealed in an interview in Seoul that its forthcoming Blackberry 7-inch PlayBook tablet will reach the US market in Q1 2011 and will be priced less than $500. We all know that RIM is targeting to compete with the Apple iPad and with a sub $500 price tag it will surely throw a big challenge to iPad.
ARTICLE CONTINUED BELOW
The BlackBerry Playbook will feature a 1 GB of RAM, 1 GHz ARM processor, dual cameras with 720p HD capabilities, and a 7-inch display. The Playbook will run on a brand new operating system. This is an interesting move considering many expected it to make use of the new Blackberry 7 platform that launched earlier this year.
The Playbook will be the first tablet marketed to the enterprise crowd. One thing Blackberry is known for is its affordable phones, and it looks like that strategy will be going to its tablet plans as well. The Playbook is one of few serious competitors that could take a chunk of interest away from the iPad, along with Samsung's Android-based Galaxy Tab.
But the price of Samsung's Galaxy Tab may be a great obstacle for its popularity. The price tag of $600 - $700, is no cheaper than an iPad. People who are going to pay that much for a tablet will instead buy an iPad. It simply does nothing to attract the non-Android-enthusiast crowd. In this respect the attractive pricing of BlackBerry Playbook may attract some people.