BlueAnt S3 Feature-Rich Speakerphone at $79.99
By Avik, Gaea News Network
Wednesday, January 5, 2011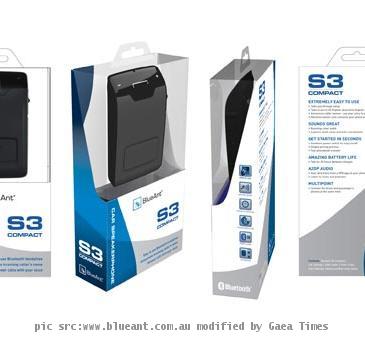 more images
BlueAnt Wireless is a global technology company that provides the most innovative Bluetooth peripheral devices and accessories on the market.
ARTICLE CONTINUED BELOW
The S3 is well suited for drivers seeking a fully featured, value-priced speakerphone with simple voice prompts. This latest addition to BlueAnt's speakerphone family also takes advantage of text-to-speech technology that reads out text messages using a free, downloadable application. The S3 also will announce the caller's name from a list of up to 2,000 mobile phone contacts when the phone rings.
BlueAnt S3 Features :
Simply Connect technology and embedded audio guides talk users through setup and pairing;
Announces incoming caller's nameanswer or reject the call via voice commands;
Initiate calls with your voice (if supported by your phone);
Vibration sensor automatically connects phone once entering the car;
Standard with five languages (U.S. English, Australian English, UK English, French and Spanish);
Full-duplex, high-volume speaker for booming, clear audio;
Superior wind, noise and echo cancellation;
Hardware power switch for easy on/off;
Simple pairing process with fast phonebook transfer (stores up to 2,000 contacts per paired device);
Multipoint capability connects driver's and passenger's phones at the same time, making possible call answering on either phone and switching between calls on both phones;
A2DP streaming for playback of music, podcasts and turn-by-turn directions from a phone-based GPS application;
Firmware upgrades available online;
Up to 20 hours talk time; 600 hours standby; and
Two-year replacement warranty.
BlueAnt S3 Price

The BlueAnt S3 Speakerphone will be available in Q1 2011 at major retailers for a starting MSRP of $79.99.