Canon EOS 60D will be Available from October 2010
By Chandrajit, Gaea News Network
Thursday, August 26, 2010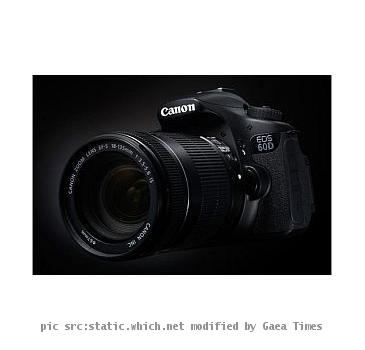 more images
NEW YORK (GaeaTimes.com) — Canon, the leading Camera Manufacturer has brought yet another great SLR in its array. It's the latest high-end Digital SLR from the focal giant. Sources say that the 60D will be replacing the old 50D, when it becomes commercially available in October 2010.
ARTICLE CONTINUED BELOW
The 60D comes with an 18 Megapixel CMOS Sensor. Powered by Canon's revolutionary DIGIC 4 Processor, the 60D unveils a capacity that captures 5.3 JPEG images per second at full resolution. Needless to say, the Canon 60D also provides you the option to shoot in RAW formats.
Some notable modifications compared to the 50D reveal an adjustable LCD on the camera's body. Although the same 3″ LCD has been used, you can tilt it to suit your position. The Live View feature allows you to set a number of awkward angles. The dot resolution of the LCD is 1,040 k, which is more than enough for viewing crisp live view. In addition to that, the LCD has also been tweaked to make it anti-reflective and Water-resistant.
The crop factor of the Canon 60D is 1.6X i.e. a lens that gives you a f-length of 100 mm, will give 160 mm when magnified. The ISO sensitivity varies between 100 to 6,400, which can be further increased to 12,800 at lower resolutions. A 9-cross optimetric autofocus system should make shots in Auto mode easier.
Some of the never-before features include some effects like Grainy, Soft Focus, Miniature and Toy Camera. Customizable features will allow you to access some of the most used settings.
The performance and features of the 60D does not end here. It comes with a superb HD video mode, capable of taking video at 1920 x 1080p. The Frames per Second speed can be adjusted to 30, 25 or 24. The video mode also provides an option to capture video at 50-60 fps but you would have to reduce the resolution to 720p then.
Maximized Memory Card compatibility was a much requested feature for most Canon users. Canon has paid heed to them this time. The new Canon 60D comes with recognition capability for the SDXC format that allows storage as high as 2TB. Marking favorite shots has been there, since its one of the most needed features in a simple Compact camera too.
Canon has decided to launch the 60D by October 2010 at the following price and features:
Canon EOS 60D body only - 1,100
Canon EOS 60D with 18-55mm (f/3.5-5.6) - 1,200
Canon EOS 60D with 18-135mm (f/3.5-5.6) - 1,400
Canon EOS 60D with ultra-silent 17-55mm (f/2.8) - 2,000
Canon EOS 60D with ultra silent 17-85mm (f/4-5.6) - 1,450
We hope that this new DSLR will hit the market with a bang and the SDXC support will bring more fans craving at the stores. So, sit tight and wait for a few more months to get this crazy Gadget in your hands.