Canon USA Reveals the New Powershot G12
By Chandrajit, Gaea News Network
Tuesday, September 14, 2010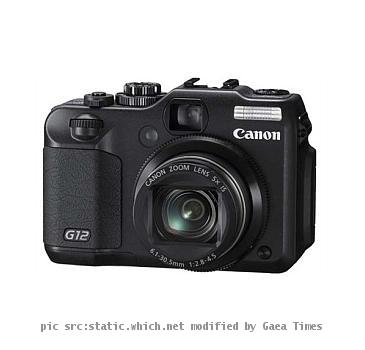 more images
NEW YORK (GaeaTimes.com) — Canon USA announced the release of a high end camera in its G-Series of models. The new Canon Powershot G12 packs itself up with an HD video mode that captures videos at 720 resolution at 24 fps. The G12 also boasts of its stereophonic microphone and miniature mode that can be applied while shooting videos.
ARTICLE CONTINUED BELOW
This time the eldest brother from the G-Family has come up with a wide range of features that help itself stand out of the crowd. A front face dial has allowed a better and easier control over the camera. This physical change in the Camera's body has brought in a quicker way to access user defined manual settings.
The Canon G12 has a 10 megapixel CCD. Sadly enough, a CMOS was quite the stuff most photographers would expect in this new version of Canon. Although, both the technologies have their own advantages but the graph tends to be kinda leaning towards CMOS. The high sensitivity system of the Camera allows a ISO number up to 12,800. The high ISO has also made shooting low light shots possible without flash.
Now, here's the most catchy part of the story. All of us know that with an increase in ISO, the image tends to generate more noise. A image shot at an ISO of 12,800 can be well expected to have noise that can disturb the image data. But, Canon says that this time it has come across all these problems and it has developed its system in such a way that noises are controlled and kept to a minimum.
The Optics used in the G12 is same as its predecessor. It has a 5x optical zoom measuring 28mm at its widest. Its new lens adaptor has a 58mm thread to allow 58mm lens filters to be added. Stuffs have changed a lot more than the previous tele lens adaptor. The lens fixes to the lens barrel and reduces the vignetting or blacked out areas on the edges of a photograph. This disturbing feature was quite common with the G11.
Some freshly scrapped features from other lines are the HDR, tracking AF. But, we must mention that this HDR is way different than the normal ones we create on Photoshop. An HDR is basically created by taking more than one shot of the same frame at various exposures and values. All the images are later overlapped skillfully to make it a single high resolution image. The size of the HDR file generally ends up at a few times the normal image size. Interestingly, Canon has made this camera generated HDR at a resolution similar to normal images.
The Canon Powershot G12 is expected to hit the market by October at around 540 pounds.
Specifications:
10 Megapixels
DIGIC 4 Processor
Front End User Dial
12,800 ISO
CCD Sensor
58 mm Lens Adapter
3 Inch Movable LCD
Hot Shoe