CES 2011 Spotlight On Motorola Atrix
By Arnab Ghosh, Gaea News Network
Thursday, January 6, 2011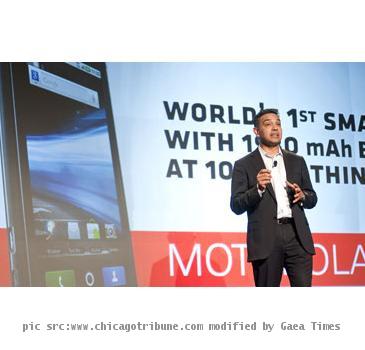 more images
LAS VEGAS (GaeaTimes.com)- There is no doubt that Motorola the US telecom giant which was once almost written off by the tech veterans is back with a bang! After resurrecting its position to an extent with a number of successful Android based smart phones the company is now trying to make foray into tablet market. Apart from that it is also keen on making hybrid devices that blur the distinction between computer and web access devices. The CEO of Motorola Mobility Inc, Sanjay K Jha unveiled the highly anticipated Android honeycomb tablet Xoom at the CES 2011 at Las Vegas and also took the wraps of a number of latest and powerful smart phones. The gadget lovers are drooling over the Xoom tablet for sure but the Motorola Atrix 4G is also hogging as much limelight at the mega tech event.
ARTICLE CONTINUED BELOW
The Motorola Atrix 4G is a futuristic device and just not a smart phone as the CEO pointed out. To be launched by AT&T the device is powered by a dual core CPU and comes with a laptop-style base. The device showcased in CES 2011 yesterday runs a specially optimized version of Firefox. The phone can beat other heavy weight smart phones in the high end segment with its impressive hardware. The dual core processor is well complemented by its 1GB RAM, 16GB I built storage, new qHD display and to top it all an immensely powerful 1930 mAh battery.
AT &T said that the smart phone will be compatible with its HSPA+ "4G" network at the CES 2011. The phone can be connected to "Motorola Lapdock", a base with speakers, keyboard, screen and a couple of USP ports to offer a laptop like experience. It runs for 8 hours at a stretch on battery. The Atrix can also be connected to a HDTV or PC monitor.