Finally The Sony Playstation 3 has been Jailbreaked
By Shaon, Gaea News Network
Thursday, August 19, 2010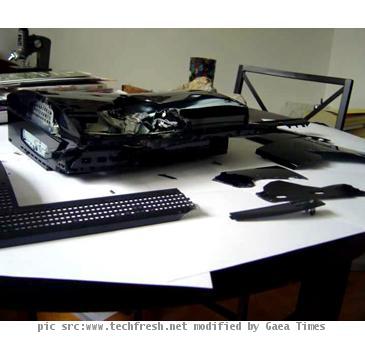 more images
SYDNEY (GaeaTimes.com) — Sony can no longer claim the title of the "most secure console on the planet". OzModChips, an Australian company that specializes on mod-chips has released a video that claims that the PS3 has been finally hacked. It seems now that the PS3 has been jailbreaked.
ARTICLE CONTINUED BELOW
Whats more interesting is that the hack is nothing but an USB dongle. The video shows that the narrator is playing the full version of "Ratchet and Clank:Tools of Destruction while he inserted a disc of the hit exclusive Uncharted:Drake's Fortune. He even went on to show the XMB screen during the operation. The video looks authentic. The official site that claims to sell the mod chips was down when last checked.
The hack claims to work on all Playstation models. Sony representatives could not be reached to comment on the affair. But looking as Playstation's extremely fidgety track record of removing features due to security concerns, as in its withdrawal of Linux support it is likely that a patch would be released soon. So does this mean that the the deathknell for the hallowed console been finally sounded? Let us know what you think. See the video of the second test and let us know.