Fujifilm reigns at CES 2011 with twelve new models
By Jayita, Gaea News Network
Wednesday, January 5, 2011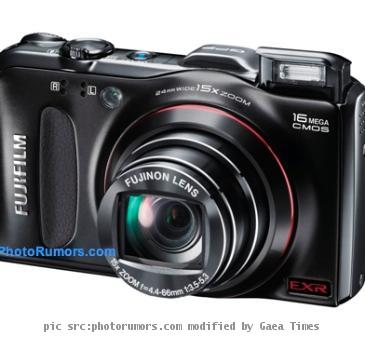 more images
Its been quite sometimes we started talking about CES 2011. Finally the event is knocking at our door. At CES this week Japan's world famous camera manufacturer Fujifilm unveils nonetheless eleven new models. Here we introduce you with the latest Fujifilm cameras unfurled during CES.
ARTICLE CONTINUED BELOW
1) FinePix F550EXR
The F550EXR is a superb point & shoot with a 16Mpix EXR CMOS. It owes a nice 3″ LCD monitor, capable to shoot photo at 11fps and to shoot video in Full HD. This model also includes RAW file capture, and a nice motion panorama 360-degree shooting mode. But what I like the most on this F550EXR is its convenient GPS module allowing you to geo-tag each and any one of your photos.
2) FinePix HS20EXR
The HS20EXR is Fujifilm flagship model and comes as a "Bridge". The 16Mpix Camera comes with an improved dual IS, TTL Flash metering, HD (1080p) video recording, EXR technology, RAW Support, as well as a high-speed movies mode going up to 320fps.
3) & 4) FinePix S3400 and S2950
Describing two models together definitely hints about the same specs both the models share. Both models comes with a 14Mpix censor, a 3″ LCD monitor, 720p video mode with AF, HDMI out, Smile and Blink Detection, Face Recognition, ISO 6400 Max, Dual IS, but only the S3400 comes with a 28x optical zoom while the S2950 comes with a 18x only optical zoom.
5) & 6) FinePix XP20 and XP30
Fujufilm are only Adventureproof cameras that are Shockproof, Waterproof and Dust/Freezeproof available at CES this year. Both of these models come with a 14Mpix Censor, a 5x Optical Zoom, Tracking AF, CCD Shift Image IS, Motion Panorama, 720p video and capable to whistand shocks to 1.5 meters, water to 5 meters, cold to -10C and dust/sandproof. Both models are technically similar, except that the X30 comes with a GPS.
7) FinePix T200
It's an entry lever 14Mpix Camera with a 10x optical Zoom, 720p video, Motion Panorama Dual IS and a very handy high contrast 2.7″ LCD screen.
FinePix Z90
If we consider only looks, then we must approve that Z90 is the most stylish of them all. Z90 is a compact 14Mpix Camera with a 720p video mode, Motion Panorama mode, a 5x Optical Zoom, Tracking AF, Digital IS and a nice little 3″ touchscreen.
9) & 10) FinePix JX300 and JV200
Both camera comes with a 14Mpix censor, but only the JX300 features a 5x optical zoom, while its little bother the JV200 only comes with a 3x optical one. Both feature a 720p video mode, a Digital IS, Face detection, with Smile and Blink detection.
11) & 12) FinePix AX3000 and AV230
The last two models were introduced at CES 2011, as entry-level cameras with a 14Mpix Censor, 720p video mode, Motion Panorama Mode, Face Detection with Smile and Blink Detection, Intelligent Scene Recognition and Digital Image Stabilization. They sport a High Contrast 2.7-inch LCD Screen, a 5x Fujinon Optical Zoom Lens for the AX300 and 3x for the AV230.
The most important sides of these two models is their need of only 2z AA batteries, which you will easily get even in a remote village.
So, which one you are going to pick? Lets share your thought with us.