GaeaTimes.com Exclusive Hands On: Sony Takes PSN Store in India Online
By Shaon, Gaea News Network
Thursday, September 9, 2010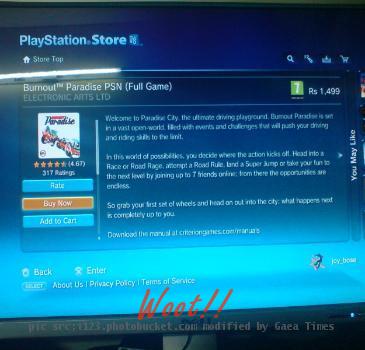 more images
Christmas has come in India a lot earlier for the Playstation 3 users. Coinciding with the 15 th anniversary of the playstation brand Sony surprised its Indian loyalists. Gone are the days when Indian users had to create US or Uk based account to access stores and buy them off PSN. India has now has its very own PSN store with all prices listed in Rupees as well. No official word was available from Sony though regarding the development.
ARTICLE CONTINUED BELOW
A quick look at the store page, which even Sony claims to be non existent at the moment. We have seen recent download only games such as Top Gun and Shank. Even though the conversion rate for US dollars are a bit on the steeper side the prize seems to lie elsewhere. Little big planet, the highly acclaimed game from Sony is available at an discount. Additionally users would be able to buy Dynamic themes. The big surprise is that Playstation Plus is available over the network as well.
A word of caution though the front seems to be in testing phase and no purchase with credit card is possible at the point (believe us we tried). The RBI requirement requiring on line stores to have an additional security layer for transactions on Debit/Credit cards may be a deterrent. It is now expected that collector editions for games with free PSN codes would be available here as well. We will put a full walkthrough of the store tommorow so keep your eyes peeled for this space.