Get your Feet Vibram Five Finger Shoes Today !
By Avik, Gaea News Network
Friday, August 20, 2010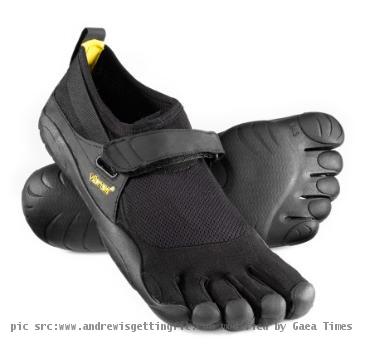 more images
The Vibram Five Finger Shoes have marked a new era in "shoe"-biz. The specially designed shoes were an instant hit with the market and are almost out-of-stock.
ARTICLE CONTINUED BELOW
These shoes are mostly meant for sports personas, as it's state of the art design is sure to boost one up for an extra hour at out-door trainings. Vibram brings to you the latest in the line of athletic shoes that is sure to provide you comfort as if you weren't wearing shoes at all. Yes Sir, Vibram Five Fingers gives you the sensation of being bare footed.
The design is undoubtedly tech-savvy, and promises to keep your feet healthy.
The typical human foot is an anatomical marvel of evolution with 26 bones, 33 joints, 20 muscles, and hundreds of sensory receptors, tendons and ligaments. Like the rest of the body, to keep our feet healthy, they need to be stimulated and exercised.
Vibram claims that,
Stimulating muscles in your feet and lower legs will not only make you stronger and healthier, it improves your balance, agility and proprioception.
These shoes are available in various models designed to captivate the minds of different users. The major varieties are, KSO, SPRINT, BIKILA, TREKSPORT, KSO TREK, FLOW, CLASSIC, CLASSIC SMARTWOOL, MOC. for men and KSO, SPRINT, CLASSIC, PERFORMA JANE, BIKILA, TREKSPORT, KSO TREK, FLOW, PERFORMA, CLASSIC SMARTWOO for women.
Prices can vary from $75 to $110 according to the look and feel. It is their promise that their shoes will aid to the longivity of your feet. So, should we give them a chance?