Go Get Your VLC For iPhone and iPad; Its Gonna Disappear Soon
By Chandrajit, Gaea News Network
Monday, November 1, 2010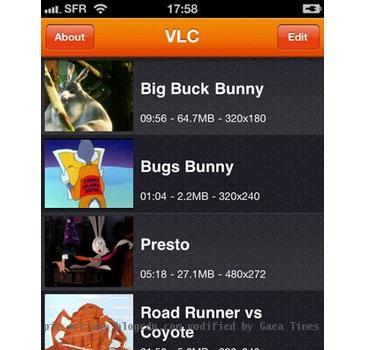 more images
NEW YORK (GaeaTimes.com) — GPL complaints are forcing the well known VLC Player to be pulled down from its respective Apple Platforms. The tension between Apple's control of the iOS Store and DRM free license requirements of the GPL has reached its zenith. The tension has crawled over to VLC Player that had been released a few weeks ago for the iPhone and iPad.
ARTICLE CONTINUED BELOW
The port was done by a company called Applidium which is separate from the VLC Developers. The VideoLAN team holds the copyright and licenses the code under GPL. VLC for iOS includes the Apple's Fairplay DRM and so it must be pulled down from the stores. It is in violation of GPL License.
concerned users are advised to look for applications on more open mobile platforms for the time being.
Apple says.
Technically speaking the violation was done by Applidium and not Apple. But, the takedown notice was sent to Apple. The statement was written by VideoLAN developer Rmi Deni-Courmont, who is also senior MeeGo software engineer. He says that was more interested in promoting an open project. All these situations around give a notion that VLC for iOs is not going to remain for long. Its better you keep a copy of a downloaded VLC for yourself.