Golf Iron Buying Guides for Amateurs
By Turjo, Gaea News Network
Tuesday, August 17, 2010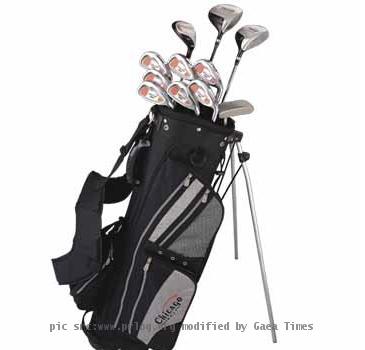 more images
Golf has always been one of the most famous outdoor activity in most of the countries. It is basically a club-and-ball sport, where the players (known as Golfers) attempts to hit golf balls into each hole with minimum number of strokes from their clubs. Golf is one of the very few games which does not require a standardize playing area. But most of the standard 'courses' consists of 9 to 18 holes.
ARTICLE CONTINUED BELOW
If you are interested in playing golf, the first and foremost thing you should consider buying is the Golf club. It is the stick with which you are going to hit the golf ball in the field.
Golf club comes in 3 different variety- Driver, Putter and Iron. In this article we'll discuss about buying your very first golf iron.
Golf Iron are generally made of iron or steel. But nowadays, most of the golf club manufacturer are selecting steel, for its strength and durability. But that doesn't mean that iron golf clubs are bad. It is a matter of preference and may vary from person to person.
Here are few essential points you should keep in mind before buying your first Golf Iron.
Identify Your Goal:
First decide whether you want to play golf on a regular basis or only during rare occasions like social gathering or long vacations. Because if you are buying golf irons only to play once or twice a year, there is no need to spend time, effort or money on picking out clubs. But if you are enthusiastic about golf and plan on playing at every chance you get, your sights and budget might have to be set a little higher. If you have a history of taking up a hobby only to drop it later, used clubs might be a good choice for you, rather than a new one.
Set Your Budget:
Golf clubs are pretty expensive. So think carefully before buying one. If you are an amateur to this game, it is a better option for you to go for a less expensive set at first. That way, even if you don't follow through with the game, you will not be wasting too much money behind it. Otherwise, if budget is not a problem for you, go for any top-of-the-line equipment.
Consider The Shaft Option:
The shaft is truly the engine of the Golf iron. A shaft that is perfectly suited to the individual golfer, increases both his/her distance and accuracy, while a poorly suited shaft can lead to inconsistent, wayward shots and reduced distance. You will not be able to make a good Swing if the Shaft of your Golf Club is too long or too short for you.
So, the 2 most basic things that a beginner should pay attention are- Shaft composition and Shaft Flex. Shafts which are made of Graphite is generally lighter and can help generating swing speed. So, women golfers and seniors will most likely be benefited from graphite shafts with a softer flex. But for younger and more stronger men, regular steel shaft with stiff flex will not pose any problem at all. But please keep in mind that most of the golf teaching pros might go for a stiffer shaft rather than a flexible one during teaching.
Watch Out for the Club:
There is no substitute for a good golf swing. But new golfers can make it easier on themselves by choosing the clubs that are marked as a "game improvement clubs". Always look for the irons that are perimeter weighted and cavity-backed. You may go for the 'hybrid' sets, where the long irons are replaced by utility clubs. It's better if you do not pay attention to what the Tour players are using at this point of time.
Your Height and Arm Length:
Before going to the shop, try to measure the distance between the tip of your middle finger and the ground. That distance determines the length of your club. Also check your Golf Club's Lie, which is the angle the club head extends from the shaft. To check it, imagine that you are standing in front of a giant clock holding your golf club. A normal or flat Lie should come between 9 or 10 o' clock while swinging. If your club is in this angle, then the club is perfect for your height.
Buying Used Golf Clubs
When Buying Used Golf Clubs, you need to check the club condition. If it has rust specks on it, the rust will most likely spread. It is not good to have a rusty Golf Club. Check if the Grooves are already a lot shallower than normal, or if the grips need to be replaced. You may not need to spend more for used Golf Clubs, but it is necessary that you get good clubs for you to have a good game.
Ask Around and Shop Around:
Finally, ask your friends, who play golf or any friendly golf pro for suggestions. Find out what they have to say. It's a great way to get ideas. When you are ready to buy, make sure you check out a few pro shops before buying. Price and selection can vary from one pro shop (or department store, or garage sale, or whatever) to another. Last but not the least, identify your price range which you can afford and stick to it.
Hope this guide has been useful enough for all of you new golfers. If you have finally decided your goals and ready to shop for your kit, you might want to check out our article - 10 Best Gold/Golf Irons (Review) in 2010 before hitting the shop. Do not forget to share your views or tips for all the golfers around the world.