Google Nexus S phone to be available from Best Buy before Christmas
By Soumitra Mondal, Gaea News Network
Wednesday, December 8, 2010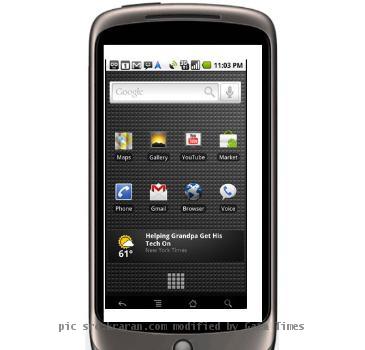 more images
Google Nexus S will go on sale from this month in the United States and United Kingdom with pre-orders staring from Monday. The much anticipated Android phone will be available from Best Buy and Carphone Warehouse.
ARTICLE CONTINUED BELOW
Google joined hands with Samsung to build the most capable smartphone till date. The smart phone Nexus S will be equipped with the latest version of the Android Operating system. The phone is manufactured by Samsung Electronics and Nexus S is truly worth the hype with its user interface, looks and features compared to the phones of its previous generations.
The chief feature which makes it the "boss" of all the smart phones available in the market is the latest technology of NFC i.e. Near Field Communications. NFC is the latest short-range wire-less technology that enables a user to read information from "Tags".
NFC helps a user in short-range communication for reading radio tags and film posters. This technology also enables proximity payment system where users are allowed to pay for items by tapping the phone against a special terminal. According to the experts this mobile will replace credit cards in future by simply swiping a mobile phone.
The phone supports internet phone calls. The Google is all set to give a tough competition to iPhone as this latest model is also possess gyroscope just like iPhone 4. The phone is equipped with 1 GHz Hummingbird processor including an advanced Graphic Processing Unit leaving you in no position to complain about the sluggishness of the device.
As for the appearance the phone has a "contour" shape. The Nexus S will have slightly curved screen for a better fit in the hand and against the face which is again a very new feature in phones.
We are very eager to get our hands on the device and we'll report to you as soon as we do it.