Google TV Details
By Soumitra Mondal, Gaea News Network
Thursday, March 18, 2010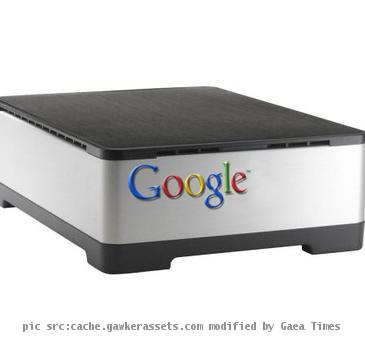 more images
New York (GaeaTimes.com) According to a report published on the NYTimes, Google, Intel and Sony has joined hands together to take the web experience to the living room. Google TV will be a platform on the televisions and set top boxes and it is believed that it will enable you to use a light version of Google Chrome and will take Picasa and YouTube on your TV. Reportedly, Google has also joined hands with Logitech to devise a keyboard remote control.
ARTICLE CONTINUED BELOW
The platform will be based on Android and will be available right out of the box on some Sony Televisions and Blu-Ray players and on some Set Top boxes that run on Intel Atom Chips. The ambitious project will have seamless integration of web contents on televisions. Unlike some of the already available models that have limited access to some sites, Google TV will bring services like Twitter, YouTube, Google Search and many more. There will also be games and some webapps to add to the list. The system is expected to make it easy to search for shows with web video content and live TV content. It is assumed that Google will deliver a toolkit to outside programmers within a few months and as we have seen with other systems, it would not take much long for us to see some actual product based on the system.
The news is not yet confirmed by the spokespersons of the companies but it is reported that Intel and Logitech are recruiting programmers with Android experience. It is also reported that the project is up and running for several months. But any public details have not been made available at this point. There is also some information regarding the testing of a set top box powered by Android on the Dish Network who is already partners of Google for their advertisement services.
If the project becomes real, Google will be extending its services into this relatively unexplored arena. Many companies have previously failed to integrate web into the TV. Figuring out a right interface for the device has been the main reason behind their failure. Google's interfaces tend to be simple and useful. If some beauty factor is added to their device like the Apple's ones, their interface may become unquestionable. If everything clicks with Google TV, Google may also extend their advertising system into this and it may become more profitable for Google than any other media. With strong partnerships with cable and satellite operators, Google can make buying television ads more affordable and contextual like their web ads counterpart. Garett Rogers of ZDNet makes us imagine logging into Google account from set top box and having the relevant commercials displayed during the commercial breaks.
Google wants to be everywhere the Internet is so they can put ads there
said one of the people with knowledge of the project, as NYTimes reports.
Allegedly, Google said that thousands of advertisers have already signed for the program but some analysts believe that the revenue generated is still too small to have any significant influence on the overall business of Google.