HP iPAQ Glisten Review
By soumitra, Gaea News Network
Saturday, December 19, 2009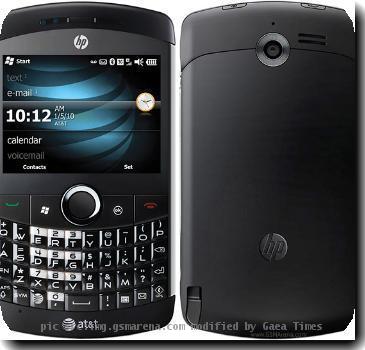 more images
HP iPAQ Glisten is the latest offering from AT&T which comes with a QWERTY keyboard for business users but doesn't miss out on the multimedia department either. It's AMOLED display is first to be seen on a business targeted smartphone and there are also the other features like 3G, WiFi and 3.5mm Audio Jack to connect your favorite headphone to it. Let's take a closer look at the phone.
ARTICLE CONTINUED BELOW
Touchscreen Display
The display of Glisten is a gorgeous AMOLED display showing 256K colors. The 320 X 240 pixels resolution in a smaller 2.5 inch display size makes the display look extremely crisp and smooth. The display is bright enough to be read in sunlight without any problem. The touchscreen is a bit less responsive than the capacitive ones but is by no means unusable. In fact the touchscreen doubles as an input method and you can do everything without using the touchscreen anytime.
Design
The design of the phone is common "BlackBerry Type" like the other HP iPAQ phones available in the market. It has a dimension of 112.8 X 62.8 X 13.4 mm. The phone is a bit thick at 13.4 mm compared to slim phones like Nokia E71 but the thickness and 132 g weight gives it a solid feel nonetheless. The keyboard is also positioned very well and the curved row of keys makes it less prone to pressing wrong keys when you are typing not looking at the keyboard.
Camera
Business Centered phones don't need to have a camera, one may argue, but the Glisten does come with a camera which is a pretty decent one with its 3.15 MP resolution. It has autofocus capability but no flash or any other advanced camera features like image stabilization
Connectivity
The phone includes standard connectivity options like quad band GSM connectivity so that it can be used throughout the world. There is also a tri band 3G connectivity ensuring 3G coverage on all possible frequency bands across the world. There are other common connectivity options such as GPRS, EDGE and Bluetooth 2.0 with A2DP to support stereo Bluetooth headsets. There is also advanced connectivity options like WiFi and GPS. The only thing we miss in this department is the FM Radio.
Operatng System
The phone uses Microsoft Windows Mobile 6.5 Professional OS and you'll get the standard Office package with it to meet all your business / professional needs but as you can guess it is not as intuitive as the iPhone OS nor as powerful as the Android OS.
Memory
The phone has a 256 MB RAM and a 512 MB ROM. You can add memory cards upto 16GB to it which should be enough to hold all of your important documents, files and perhaps all your favorite music and videos.
Speed
The phone is has a very fast speed when it comes to web browsing, thanks to its 7.2 MBps 3G Connectivity. The phone also has a decent Qualcomm MSM 7200A 528 MHz processor which is very fast for everyday tasks but it is a bit slower when it comes to multitasking and is surely not the fastest device available in the market.

Price
The HP iPAQ Glisten is available for $229, after a $50 rebate and with a two-year contract.
Conclusion
At the end of the day it is a nice mobile phone for the businessmen and professionals who like the Windows Mobile Interface and feel home with it. But if you don't, there are many other mobile phones you can consider.
Filed under:
Company
,
Featured Article
,
Gadget
,
HP
,
Mobile Phone
Tags:
Business Phone
,
Camera Mobile Phone
,
HP iPAQ Glisten
,
Mm
,
Mobile Phone
,
Mobile Phones
,
SmartPhone
,
Smartphones
,
Windows Mobile
,
Windows Mobile Phone