HTC Droid Incredible Specifications
By Soumitra Mondal, Gaea News Network
Wednesday, April 14, 2010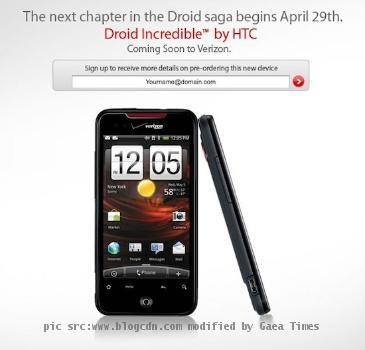 more images
San Francisco (GaeaTimes.com) HTC Droid Incredible is leaked, intentionally or unintentionally. There is no official announcement yet but Verizon had just thrown up a coming soon preview page that had the details of the phone. They quickly closed the page and password protected it. So, no more official views but there are aplenty websites where the leaked images are available.
ARTICLE CONTINUED BELOW
To me, this seems to be a delicate marketing approach of the new phones. Giving just a glimpse of the phone and storming out rumors are working for many phones and this leak has already made this phone one of the most searched topics in one of the most popular search engines in the world. (Yes, I'm talking about Google.) Perhaps, an official announcement of the phone could not draw that much attention. However, here are some of the details of the phone that we have managed to get from the leaks.
The HTC Droid Incredible will have similar specs as the Google Nexus One and most probably it is a tweaked version of the Google Nexus One. It will measure 4.63″ X 2.3″ X 0.47″ and will weigh nearly 4.59 oz. HTC Droid Incredible will run on the latest Android 2.1 'Eclair' version with Sense UI. The 1GHz Snapdragon processor will be there in place to provide you fast response even when multitasking on the device. The display will be a 3.7 inch WVGA OLED capacitive touchscreen display. There is also an 8MP camera in place with auto focus and video capture capabilities. There will be other common features such as 3.5 mm headphone jack, Accelerometer and GPS. It will have a 8GB internal memory and will support microSD cards of up to 32GB. It will be available from April 29th and