I-O Data ultra slim and light External Blu Ray Burner Now Burns BD-RE Format Discs
By Shaon, Gaea News Network
Wednesday, November 17, 2010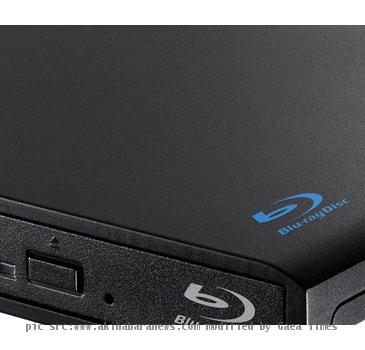 more images
The Blu-Ray is here to stay as the next disk format in line after DVD's. After reducing the competing HD-DVD to the obscurity of Wikipedia, the format has been really catching on really fast. Well its not hard to see why a disk that can hold 50 GB of data has become a rage. All the latest movies like Avatar and Inception has had record Blu-Ray sales. There was a lime when a Blu-Ray writer would set back a buyer by a small fortune but as of late all the major electronics brands have come out with one affordable solution after the other. The most Value for money service has been done by Sony which has been promoting the Blu-Ray format for its next gen home entertainment solutions for quite some time now.
ARTICLE CONTINUED BELOW
Well If Readers are catching on can the Blu-Ray burners be far behind? As it was introduced almost an year ago The BRP-US6 Ultra slim and light external Blu-Ray has been overhauled to support the BD-RE disc Formats. So after the upgrade the external Blu-Ray burner has the capability to burn both single layer BD-R and RE discs at 6x as well as dual Layer BD-R and BD-RE at 4x. Additionally it will burn DVDR/RW, Dual Layer DVDR/RW, DVD-RAM and CDs as well.
All is left to see is how the device will figure in terms of sale when it goes out this winter. The device(officially named I-O Data ultra slim and light (330g)) is supposed to go out on sale for about 22,100 Yen in Japan which figures to about 265.9735 U.S. dollars. Expect a review soon.