iPad Updated Version Coming Soon?
By Arnab Ghosh, Gaea News Network
Sunday, November 7, 2010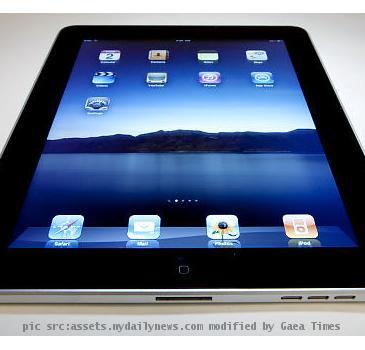 more images
CUPERTINO (GaeaTimes.com)- There is no doubt that Apple iPad holds the numero uno spot in the still nascent Internet tablet market. Even after the release of similar products from rivals like HP, Dell and RIM, the position of the Apple iPad remains on the top. The experts also think it will take any company a very long time no matter how big it is to come up with a product that can match the iPad in terms of sales. However, the rivals have included features like support for Flash, twin camera and beefy hardware to take on the iPad. That explains why the folks at Apple are planning to come up with an updated version of the iPad in the near future. However, the Cupertino based company has not said anything so far officially on the second generation iPad.
ARTICLE CONTINUED BELOW
It has been said by some of the tech rumor sites that Apple has already shot the commercials for the next generation iPad by a noted fashion photographer. It is not known what new features would be there in the so called next generation iPad but the inclusion of a camera is a possibility. The display can also get updated and Apple might chip in a beefier dual core chip in the product.
Apple in general does not disclose information on a product before its official release and it has remained tight lipped on this issue as well. The next year may see the release of the second generation updated iPad. The release of the iOS4.2 is on the anvil. It is going to add more functionality to the iPad OS.