iPhone 4 Can be Used as an Air Mouse with Movea iPhone App
By Soumitra Mondal, Gaea News Network
Thursday, November 25, 2010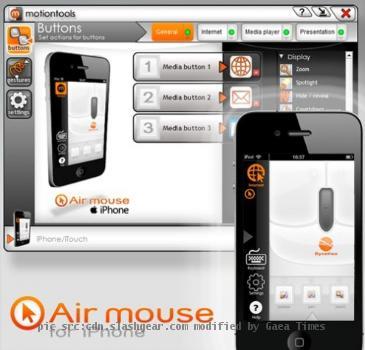 more images
Your iPhone 4 now has more uses than you actually thought. It can be used as an Air Mouse which seems very suitable for HTPC use or for use during a presentation when finding a suitable desk to move the mouse becomes inconvenient.
ARTICLE CONTINUED BELOW
If you don't know about Air mouse or gyroscopic mouse, let me put some word for you. The Air mouse is actually a mouse based on gyroscopic motion. The movement of the cursor or the arrow pointer on screen is controlled by tilting the mouse in the direction you want to move it.
A standard Air Mouse is available from manufacturers like Logitech and Gyration at about $100 but the app that can turn your iPhone 4 into an Air Mouse is dirt cheap at only $1.99 from the App Store. Just get the nugget of code and your iPhone 4 or iPod Touch's internal gyroscopic sensor is enough to sense your hand's waving to convert it into a cursor movement on the screen.
MotionTools software for the Mac and PC are available for the users to customize, activate and control the desktop apps. You can scroll, zoom and pan with a flick of the wrist. The software also allows pen drawing, image stamps and a highlighter function.
Some critics are suggesting that a dedicated Air mouse or gyroscopic mouse will perform at a better precision than this setup but I think it would be silly to compare these things at this stage. What do you think? Share with us in the comments section.