iPod, iPad, iPhone Upgrade: Digital TV Tuner
By Avik, Gaea News Network
Wednesday, November 17, 2010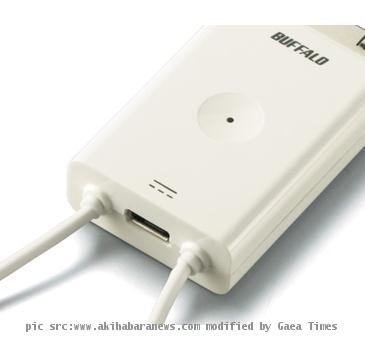 more images
Great news for the iPod owners. Well, if you have an iPod Touch with you or may it be an iPad or an iPhone, you can now upgrade itto watch television. Now, isn't that hot?
ARTICLE CONTINUED BELOW
Too bad that services at this moment are restricted to the Japanese mobile Digital TV network system also known as 1Seg, let me tell you this tiny little "dongle" that can be stick to any iPhone, iPod Touch or iPad will deliver you with magnificent performance, all you need to do is get Buffalo 1Seg software installed (go and get it from the Japanese iTunes store ), Once this is done, sit back, relax and have a look at the 1Seg network (UHF 13 62ch).
As a matter of fact this "dongle", also popular by the name DH-ONE/IP will be sold at around 10,000 Yen ($125 approx) latest by this month, and it weighs just 20g with a dimension ranging around 30×12x45mm.
The other point to be taken into consideration is that the DH-ONE/IP is only compatible with iPhone4 iPhone 3GS iPod Touch 3rd Gen (with the exception of the 8GB version) running iOS4 and any iPad running on iOS 3.2.
So, are you ready to have some fun?