Kensington announce Transforming PowerLift Back-Up Battery
By Jayita, Gaea News Network
Wednesday, January 19, 2011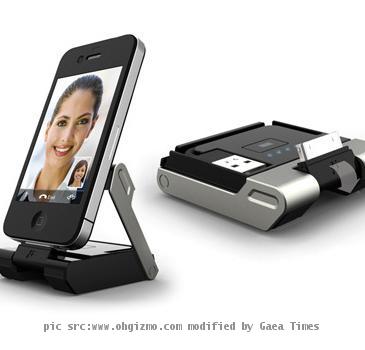 more images
Back-up batteries for iPhone and iPod are countless. But when it comes to supporting a bit more hours of talking, or music unfortunately they fail to fulfill our expectation. Kensington's new PowerLift, a 1,200 mAh lithium-ion polymer backup battery is believed to help you overcome such inconveniences.
ARTICLE CONTINUED BELOW
The new back up battery increases its size and bulkiness by transforming into a sturdy dock that grant you 20 more hours of music playback, 5 hours of video and 3.5 hours of talk time and even an extra hour and a half of FaceTime.
It has got a built-in USB cable that makes it completely self-contained when you're away from home, and a set of LEDs lets you know how much juice it's still got left.
Price & Availability

Kensington's Back-Up Battery is priced at $49.99 and currently available for pre-order from Kensington.