Lenovo ThinkPad X201 Tablet Review
By soumitra, Gaea News Network
Thursday, February 25, 2010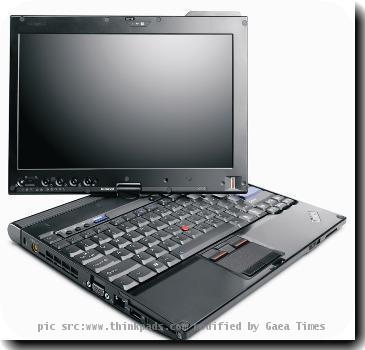 more images
The Lenovo ThinkPad X201 is the latest ultra portable business laptop from Lenovo and it is available both in standard form and one with a Wacom Tablet Screen. This is no meager powered iPad tablet that can only be used for some web based applications but it is powerful enough so that you can view HD videos on it without any problem or you can also play a 3D game on it, if you like so. The new X201 Tablet boasts the new Intel low voltage Core i7 CPU along with a 4GB of RAM. Before spending some $1,900 on the tablet, let us look closer into the tablet to find out if it has any deal breaking cons.
ARTICLE CONTINUED BELOW
Performance
The system houses a 2.13 GHz Core i7 640 LM CPU and a 4GB RAM. Simply put, this is a powerhouse tablet. Though the Core i7 used here is a low voltage version and the performance of the processor is not like the standard desktop edition systems but it is more than enough to run a system like this. You can run many programs like iTunes, Microsoft Word, GIPM, Skype and at the same time switching between multiple tabs in Firefox does not break a sweat on the system. The 320 GB 5,400 rpm HDD is also fast enough so that launching programs won't make you crazy. The graphics of this system is the integrated GMA 4500 MHD which is enough to run HD videos smoothly and perhaps some 3D games but does not have the performance like a dedicated GPU so don't expect to run Far Cry at its highest settings on this machine. However, we don't have any complain with that, after all, it is not a gaming laptop like Alienware.
Build and Design
The ThinkPad sticks to it original ThinkPad design elements. This means that it is a no frill notebook. There isn't any noticeable design departure from the original ThinkPad root; there is the classic soft touch lid, square edges and the magnesium alloy chassis. The size of the notebook is as small as it can be keeping the standard size keyboard. However, if you consider its thickness, it is a tad bit thicker at 1.3 inches whereas the commonly available netbooks or tablets are merely 1 inch thick. The weight of four pounds also feels heavier especially as a tablet.
The hinge is perhaps the most important thing to look for before buying a tablet PC. This unit has a bi-directional 360 degree hinge that feels solid from the start. There is a latch that keeps it locked in place when positioned on top of the keyboard. Both the tablet orientation and the normal laptop like view operate smoothly on the device.
Display
The system packs a 12.1 inch 1280 X 800 pixels resolution display that is quite brighter than most other touchscreen tablets available in the market and there seems to be almost no lack of brightness due to the extra touchscreen layer on the screen.  The viewing angles are surprisingly good and there is no graying on flipping the screen.
Touchscreen
The touchscreen works very good for both finger input and the stylus input. The capacitive touchscreen recognizes even the slightest touch of our fingers which makes multitouch least painful on the device. However, digging through Windows 7 menus is still a headache. Though there are not so many uses of it right now and you can do some two finger scrolling and pinching to zoom; there are also some Windows 7 touch games like scaring away the digital fish, if you like to spend some time with it.
Keyboard
The keyboard from the Lenovo ThinkPad series had been a pleasure for almost every model they have produced and this Lenovo ThinkPad X201 does not disappoint either. The keyboard is spill proof to incorporate some ruggedness into the keyboard. The keys are firm to push and have a good click effect when pushed. If you are planning to use this tablet's keyboard for some longtime, there aren't many competitors to this keyboard.
TouchPad and Pointing Stick
The inclusion of a touchpad in this lineup is always welcome but the size of the touchpad is very small. There are many among us (including me) who don't like to use the pointing stick at all. This is why they have included the touchapad. Apart from the size, we don't have any complaint against the smoothness of the touchpad or the clicking button.
Ports
The X201 Tablet has every standard port that you may need for general use. There are three USB Ports, Ethernet, VGA, Express Card 34 and the common headphone – microphone jack. The only thing we miss in this device is a HDMI Port. It would surely be a welcome feature on a powerful notebook like this. Playing HD videos on my HDTV would be more pleasant than its 1280 X 800 screen. If the HDMI Port was present we might have forgiven the absence of the Card Reader slot.
Audio
This is not a multimedia system, so we did not expect hifi sound quality from the two speakers residing at the bottom of the device but to our disappointment, the quality of the sound was worse than many netbook speakers we heard. The tinny speakers only qualify to conduct a chat with a friend of yours and nothing else. You must use a good pair of headphones to listen to your favorite music collection.
Battery Life
The system comes with an eight cell battery that sticks its back almost an inch outside the laptop's boundary. This does not look cool but does provide some decent battery life. The system can easily deliver six hours in normal condition but if you are a heavy user, it can provide at least four hours in the most extreme situations. Options for four cell battery will be available very soon but that won't provide that much runtime.
Heat and Noise
Heating was one of our concerns when we heard that it would have a Core i7 processor. But the low voltage processor does not create that much heat to be worried about. The noise of the cooling fan was not audible even in a quiet room.
Pros
Great Performance
Display is very good for a Tablet
TouchPad is there if you need it
Cons
Underpowered integrated Graphics
Heavier than other ultra lightweight notebooks
Conclusion
The Lenovo X201 is a device that really doesn't have any cons that can be a deal breaking one. If an extra pound of weight is not a problem with you or you don't want to play 3D games on it, you should do fine with the machine.
Filed under:
Company
,
Featured Article
,
Gadget
,
Laptop
,
Lenovo
,
Touchscreen
Tags:
Best Tablet PC
,
Laptop
,
Laptop Review
,
Latest tablet PC
,
Lenovo Review
,
Lenovo ThinkPad X201
,
tablet pc