Lenovo to exhibit Four new IdeaCenter and all-in-ones Desktop at CES
By Jayita, Gaea News Network
Tuesday, January 4, 2011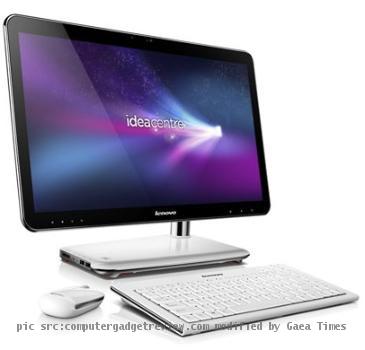 more images
LAS VEGAS (GaeaTimes.com) — Today Lenovo has unveiled four new IdeaCentre and Lenovo all-in-one (AIO) desktops at CES 2011. The IdeaCentre A320, B520, B320 and the Lenovo C205 are claimed to be different in design, performance, style and as entertainment capabilities from their predecessors.
ARTICLE CONTINUED BELOW
Lenovo achieved significant business growth (that measures 15%) over the year with Lenovos IdeaCentre AIO desktop.
The latest Lenovo AIO desktops round out our existing portfolio to offer the right PC for every individual and family that is seeking powerful performance with cutting edge features like touch screen and 3D capabilities, HD monitor and a sleek appearance
, said Dion Weisler, vice president, business operations, Lenovo.
1) IdeaCentre A320
This new desktop hugely changes the home computing scenario with its ultra-slim design and features. The A320 measures just 18.5mm deep at its thinnest point, which indicates that it's the slimmest AIO design of the industry.
This model comes with a 21.5″ LED Backlight monitor, a 2nd Gen Core i5 CPU with Turbo Boost 2.0 and HDMI out.
2) IdeaCenter B320
The B320 more or less possesses the same features as the A320 possesses. In addition, B320 has a digital TV Tuner.
3) IdeaCenter B520
IdeaCentre B520 AIO desktop is best for the users, who seek for high performance gaming as well as family entertainment in a single machine. It combines high-performance graphics and the latest 2nd Generation Intel Core i7 processor in a compact AIO design. It's industrys first frameless AIO design with a multitouch touchscreen. The B520 utilizes Project Capacitive Touch (PCT) for a more accurate and comfortable multitouch user experience. The B520 also features a 23 inch Full HD display with optional Nvidias 3D Vision solution, SRS Premium Sound audio enhancement and an optional 3-in-1 Mouse with motion-drive gaming and air-mouse functionality.
4) IdeaCenter C205
This one comes with the smallest monitor of all. With only 18.5″ screen size C205 sports AMD Dual Core E-350 CPU with an AMD Radeon HD 6310 discrete graphic as well as an optional Radeon HD5450 card with 1GB of VRAM.
So, which one do you like most and giving a thought for buying? Please share your views with us.