LG ST600 to be Unveiled at CES 2011
By Turjo, Gaea News Network
Thursday, December 30, 2010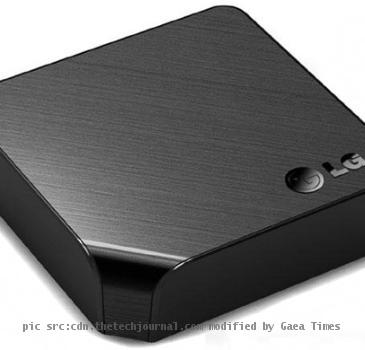 more images
At CES 2011, LG is going to launch the LG ST600 Smart TV Update, a box that makes your "dumb" TV connected, smart, and hopefully cool. LG sees this as good intermediate step while we're transitioning from "TV" to "Broadband TV", to "Smart TV".
ARTICLE CONTINUED BELOW
LG's own definition of Smart TV is a television that gets content from a wider range of online channels and services, including not only premium content, but also "long-tail" (DYI, small publishers) content. A Smart TV would also be able to download and run "apps" (applications) as well. Finally, it should browse the web and offer a full web experience, which implies support for Flash. We'll have to see what LG has in store for us, how good the web browser is and whether or not it will be blocked by Hulu and the TV Networks.
Powered by a BCM7615 CPU with 384MB of Memory and 1GB of Flash, WiFi and USB, the ST600 will give not only DLNA support to your good old TV but also a dedicated UI to master all your content, the possibility to watch movies and photo from external sources, and to bring the best of Internet into your living room.