Motorola Tablet Video called iPad a 'giant iPhone'!!
By Jayita, Gaea News Network
Tuesday, December 21, 2010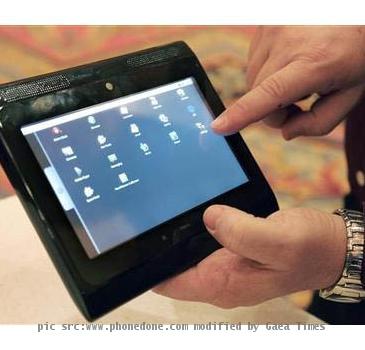 more images
It seems a cold war between Motorola and Apple is not a matter of secret now. Motorola, which is yet to unveil its tablet, has already started promoting their product above the iPhone. A promotional video, released Sunday is helping them in this regard.
ARTICLE CONTINUED BELOW
Although their product is still unannounced, Motorola couldn't stop themselves from denigrating the iPad. They even went on calling the iPad a "giant iPhone".
However, how far their claims would meet the reality will be clear only when Motorola announces its tablet at CES next month.
At a recently held conference, Google's Andy Rubin demonstrated the new version of Google Maps running on a Motorola tablet. Rubin said that Motorola prototype was running Google's Honeycomb operating system, the next version of Android, on a dual-core Nvidia processor. He also focused on the tablet's 3D image-processing capability.
However, the specs discussed by Rubin was not confirmed by the Motorola video. But an animated buzzing bee at the end is a clear hints of Honeycomb.
All in all the "Tablet Evolution" video comprise of a short tour of famous tablets that includes citing the Rosetta Stone as providing "mutlilingual support," but at "low resolution."
Some of the clues that the video offers about the specs of the new Motorola tablet are that the tablet will have a high-resolution screen, powered by a dual-core Nvidia processor, packing a 3D graphics punch.
Watch Motorola Tablet Video below.