Motorola Xoom: Potential Threat To iPad
By Arnab Ghosh, Gaea News Network
Thursday, January 6, 2011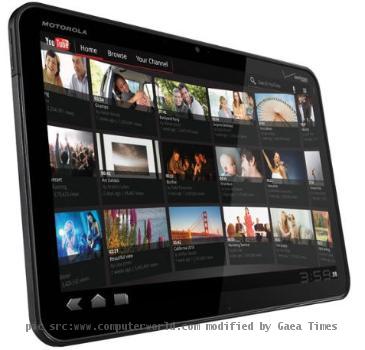 more images
LAS VEGAS (GaeaTimes.com)- It seems that after a long span Motorola has a winner in its hand and it is not a smart phone. For some time, Motorola, the US based mobile telephone giant which once held the second slot globally in mobile handset sales slid downwards and it seemed it would not recover ever again. However, after the switch to Google's android based smart phones the company is on a recovery spree and at CES 2011 it unveiled a number of high end gadgets. The CEO of Motorola Mobility Inc, Sanjay K Jha unveiled the much awaited Motorola Android tablet named Xoom at the mega tech event at Las Vegas. The teaser video of the Tablet created sensation among gadget lovers worldwide when it surfaced a few days back. The device has received positive reviews at the CES 2011 by the tech veterans and most of them think this tablet has the potential to lock horns with Apple iPad.
ARTICLE CONTINUED BELOW
Motorola and Google have ensured that the Xoom tablet does not suffer from the hiccups faced by first generation tablets including iPad and the highly successful Samsung Galaxy Tab. The device is powered by a Tegra dual core CPU that is capable of dealing with FullHD content. The tablet will be available on the 3G network of Verizon. Verizon releases a number of Motorola smart phones these days. The Xoom can be upgraded to use the upcoming 4G LTE network of Verizon in near future. It can capture 720p HD video as well.
The Motorola Xoom beats iPad and Galaxy Tab on several grounds including screen resolution and browsing extension support. It also has better camera than the Galaxy Tab.