New Sony VAIO with AMD Fusion Revealed at CES 2011
By Turjo, Gaea News Network
Wednesday, January 5, 2011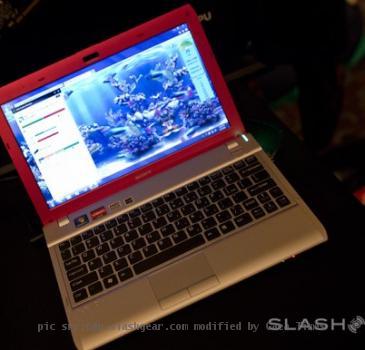 more images
With the advent of AMD Fusion line of processors, we are going to see devices which are going to pack this new chips. Sony has already applied the power of AMD fusion in their new Sony VAIO which has been unveiled at CES today.
ARTICLE CONTINUED BELOW
The notebook is an 11.6-inch machine that will be powered by the dual-core 1.6GHz E-350 Zacate. The unit on the showroom floor sported 4GB of RAM, 500GB internal storage, 802.11n WiFi, and Bluetooth connectivity. The laptop was pretty sturdy but noticeably light which makes it the perfect candidate for the new Zacate series from AMD.
But what we have observed what it lacks in terms of power management. The battery was not up to the par, only lasting just over 3 hours. Let's hope when Sony finally launches this new version of Sony VAIO, they will offer extensive configuration options to make this a truly powerful lightweight notebook.