OCOSMOS Officially Introduces Two New Mobile PCs at CES 2011
By Turjo, Gaea News Network
Friday, January 7, 2011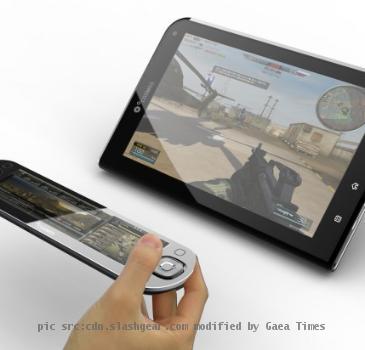 more images
OCOSMOS has officially announced two brand new mobile pcs at CES 2011. The OCOSMOS OSC1 is a Tiny Computer (TC) while OCOSMOS OSC9 is a Tablet PC.
ARTICLE CONTINUED BELOW
The OSC1 TC runs an Oak Trail Intel Atom processor with a 5-inch 1024 x 600 capacitive touchscreen, on-screen QWERTY keyboard and twin cameras, while the OSC9 has a 9-inch 1024 x 768 multitouch capacitive touchscreen, detachable QWERTY controller with virtual keyboard, and a companion pouch with space for a spare battery.
Both the pcs run on the controversial Windows 7 and have storage capacity of upto 64Gb. They come with a microSD slot, bluetooth and WiFi. There's a 3.1-megapixel camera on the back and a 1.3-megapixel camera on the front, as well as a microphone and left/right shoulder buttons for gaming.
OCOSMOS expects the OSC1 TC and OSC9 Tablet PC to go on sale in the US around the middle of the year. pricing is yet to be disclosed.