Olive Pad Landing In India
By Arnab Ghosh, Gaea News Network
Friday, July 23, 2010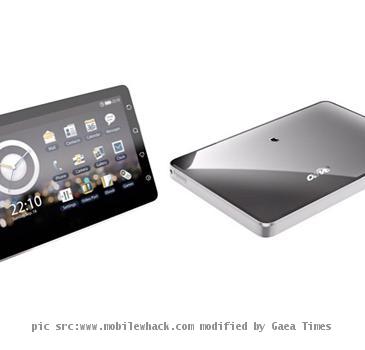 more images
NEW DELHI, INDIA (GaeaTimes.com)- There are a number of companies that are launching their own tablet and internet access devices with touch screen capabilities following the line of iPad. Those who cannot afford Apple's touch screen internet tablet will soon get spoiled for choice. The Indian tech lovers who are longing for their own Touchscreen internet tablet have reasons to feel happy about. Apart from the Dell and Hp models they can now also choose the Olive Pad which is soon going to be launched in the Indian market. This Touchscreen based internet tablet beats iPad in its own game by offering support for flash.
ARTICLE CONTINUED BELOW
Olive Pad is going to make internet access easier for the Indian gadget users who want something between a Smartphone and a netbook for quick on the fly internet access. The device is slim and looks quite sleek. Running on Android 2.1 OS it offers an intuitive interface. There are plenty of web access options including Wi Fi. One can also use Bluetooth to transfer data. The price in the Indian market may vary from INR 20000 to INR 25000 which is a bit steep than most netbooks available. The device has two cameras, one is front facing.
With voice support and two cameras the Olive pad can also be used as a large cell phone. The screen resolution is 800 x 480 which is adequate for its size. There is no such device in Indian market right now and the gadget freaks are likely to embrace it. However, the more demanding users may not be satisfied with it.