OlivePad- VT100: Hardly An iPad Challenger
By Arnab Ghosh, Gaea News Network
Wednesday, November 10, 2010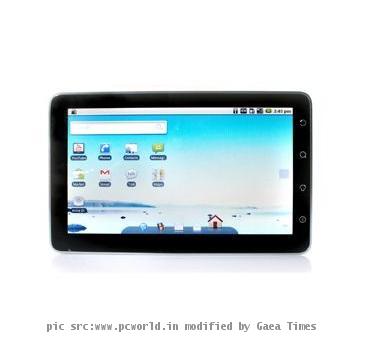 more images
DELHI, INDIA (GaeaTimes.com)- It seems what the Apple said about the dominance of the iPad is turning out to be true. It is still the leading Internet tablet device and despite the release of similar products from rival companies like HP and Dell its dominance is going to continue for a long time indicates the sales trends. The Indian contender to iPad namely the OlivePad VT 100 which was launched last month is the first 3G tablet launched in the country. The initial response of the tech veterans is that it is exciting but is overpriced for the Indian market. It also needs some refinements before it can be compared with Apple's flagship Internet Touchscreen tablet. The size of the screen in the device is smaller than that of iPad but the quality is not half as good. It is very difficult to read it in direct sunlight. The pinkish tinge that appears on the screen is also a turn off.
ARTICLE CONTINUED BELOW
The OlivePad takes a beating in the Touchscreen segment as well. The capacitive Touchscreen is actually less responsive than some of the resistive Touchscreen based devices. Another downer in the device is the virtual QWERTY keyboard that is available both in landscape and portrait modes. It is anything but user friendly.
OlivePad supports H.264 and MP4 video formats and those with films saved in other formats will have to convert their collections. The lack of support for other popular formats like DivX/XviD is sorely felt. It is also surprising to see the battery of the device rated at 3240 mAH runs out well below one hour when WiFi is enabled.