Panasonic India Launches 3D Technology Integrated AG-3DA1 Video Camera
By Chandrajit, Gaea News Network
Friday, September 3, 2010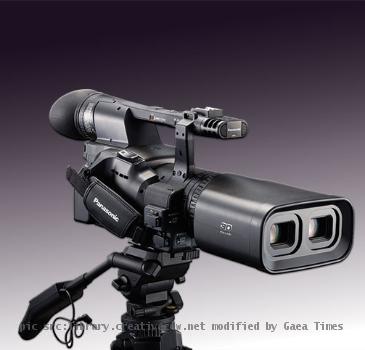 more images
KOLKATA, INDIA (GaeaTimes.com) — Did you enjoy the Movie "Avatar"? If yes, then there are a lot more Avatars coming up from Indian Production line ups.
ARTICLE CONTINUED BELOW
Technology is emerging fast. Black and White to Color, Color to HD, and now it's from HD to 3D. With this advanced technology Panasonic India has redesigned the Definitions and Dimensions of their products. Camera is not an exception here.
The Panasonic's well known "camera to couch" has arrived in India. The innovative leader has come up with the latest 3D technology integrated in a wide spectrum of gadgets it has revealed. It seems that Panasonic is gonna change the way in which we look at our good old Black box. A greater viewer engagement and enjoyment will be delivered by the Panasonic 3D Video Camera. The 3D technology will be able to generate images which have a depth of field. In fact, it will be able to record the view that human eyes perceive.
Panasonic has scheduled a two day demonstration and presentation at the Yash Raj Studios to show the film fraternity of India the benefits and experience that the Twin Lens Full HD camera offers. Film students from all around the country will also be attending this unique event.
The President of Panasonic India, Mr. Daizo Ito said:
Panasonic has been the harbinger of new technology for several decades now. With the Indian creativity getting applauded across the world, it becomes imperative for Panasonic to make available the latest movie making and broadcast technology in India.
Dimensions has planned to go on a tour around India arranging 3D Movie making contests for students across film and television institutes all over India. The free imagination and creativity of the budding filmmakers will be unveiled by this contest. Well known Film makers across India will be the judges at this competition.
Dia Mirza, a leading Film Actress of India and Panasonic's Brand Ambassador for Eco Ideas said:
I am supporting Panasonic to spread awareness on how technology can support the environmental cause. The 3D products are not only high on technology, but are eco friendly also.
A few years ago, creating a 3D film was very tough. Various aspects like parallax and vertical gap needed to be kept in mind. The Panasonic AG-3D1 has turned all these complexity into a friendly package. Panasonic has made it easier to shoot with the 3D camera at various locations, all within a single day.
Many viewers across India have already experienced some 3D movies. It's time for some uplift now. Movies like 'Avatar' and 'Clash of the titans' have earned much more than expected. With the new dimension capturing the curiosity and interest of every Audience, it seems that the time to change from 2D to 3D has arrived. There should be no delay. Even various channel broadcasters like Discovery and National Geographic have started harnessing the potential of this domain. Direc TV in the US has started broadcasting 3D programs. They have already built up a viewer base at 11 million households.
Indian Filmmaker, Karan Johar said that he was very excited about the 3D technology and he is very happy that this has been made available to Filmmakers like him. He has already started planning on how to harness and bring our the creativity with this new dimension. He agrees that 3D is captivating the Indian Audience very much and this revolution in movie making will be given a warm welcome by many.
It's really a great news for Indians. We are proud once again as we are emerging into the new dimension. The third dimension is gonna change the movies we watch. And some day, it might change the way you are going to treasure your precious moments.