Pick Punch : A cool Guitar Pick Maker for You
By Turjo, Gaea News Network
Tuesday, November 2, 2010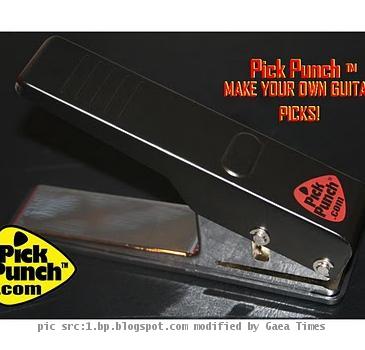 more images
How many time it has happened that while playing a cool solo or a grungy riff, your pick has broken off? Or you might have actually lost it to one of your well-known friends, but is afraid to ask back so. Don't worry buddy! If you're not overly picky about the material you strum your guitar with, with Pick Punch, you now have the option of turning pretty much anything into a guitar pick.
ARTICLE CONTINUED BELOW
Pick punch is basically a hole punch, but with a new twist. It can chop credit cards, gift cards, or really any kind of thin plastic into picks of 351 or Fender varieties. One can also obtain ready made sheets of plastic for Pick punch from the Pick Punch site. But that might that the fun out of it. Well, for a pick punch worth $25 and a huge supply of plastic cards or stuffs like that, you are never bound to look out for a guitar pick.
What do you think of this crazy gadget? Do you think it is useful enough? Do let us know what you think!