Pioneer's DJ Digital Player and Mixer
By Avik, Gaea News Network
Tuesday, December 21, 2010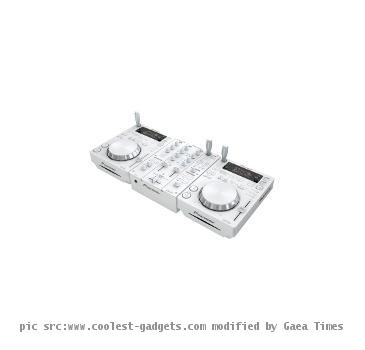 more images
Pioneer Electronics (USA) Inc. Professional Sound and Visual Division today introduced a new pearl white version of its entry-level DJ system comprising of two CDJ-350-W digital media players and a DJM-350-W 2-channel mixer. As the popularity of music remixing increases, Pioneer continues with their effort to provide the consumers the best way to engage in the art by offering innovative and fashionable DJ gear. The new pearl white CDJ-350-W and DJM-350-W models not only add a fashion statement to DJ performances but also offer two additional audio effects - Noise and Short Echo.
ARTICLE CONTINUED BELOW
DJ Digital Player and Mixer Features
BEAT Display Function Visually illustrates the beat position of a song and the playback point providing easier hand-eye coordination when performing scratches and loops.
Auto Beat Loop Function With one press of a button on the player, the user can create various loop performances.
Beat Loop Matches the beat and repeats a 4-beat loop.
Loop Divide While playing a loop, plays the loop at a different rhythm.
Hot Loop While playing a loop, returns to the start of the loop and plays it
Auto BPM Lock Users can set a Master Beat Per Minute (BPM) of the current song playing that can be synchronized with a touch of a button. The feature enables beginners to easily match the tempos of songs by simply adjusting the speed to the Master BPM on each player.
Create Playlist Function While a song is playing, users can immediately add it to a new playlist with a touch of a button for future playback of favorite songs.
DJ Software Compatible The CDJ-350-W is MIDI-compatible with other DJ software allowing it to be used as an audio interface.
Pioneer's packaged pearl white DJ system is expected to hit the stores in January 2011 and come with two CDJ-350-W players and one DJM-350-W mixer for a suggested retail price of $2,445.